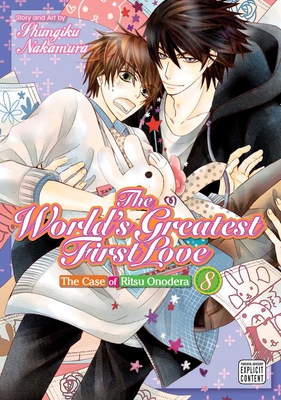 The World's Greatest First Love, Vol. 8 (Paperback)
SuBLime, 9781421597515, 178pp.
Publication Date: October 10, 2017
Other Editions of This Title:
Paperback (4/14/2015)
Paperback (7/14/2015)
Paperback (4/9/2019)
Paperback (7/11/2017)
Paperback (4/11/2017)
Paperback (7/10/2018)
Paperback (1/9/2018)
Paperback (3/8/2016)
Paperback (10/11/2016)
Paperback (4/14/2020)
Paperback (1/8/2019)
Paperback (4/13/2021)
Paperback (10/13/2015)
* Individual store prices may vary.
Description
A fresh start turns sour after a manga editor's new boss turns out to be his ill-fated first love!

When Ritsu Onodera changes jobs, looking for a fresh start, he's not exactly thrilled when his new boss turns out to be his old flame. Ritsu's determined to leave all that in the past—but how can he when his boss is just as determined that they have a future?

Manga editor Ritsu Onodera continues toiling away for his demanding boss Masamune Takano, who happens to be his first love. The rookie editor has just finished his very first autograph session when Takano tells him he's going to throw him a birthday party—and then promptly drags him all the way to Kyoto! Along the way, they cross paths with Arata Haitani, Takano's old coworker who's now the editor in chief for their rival Shonen Earth. Ritsu sees this as an opportunity to learn more about Takano's past, but Takano demands that Ritsu steer clear of the other man!
About the Author
Shungiku Nakamura is one of the most popular yaoi creators worldwide. She is best known for her series Junjo Romantica, which has been adapted into both an anime and drama CD. Her other English language title, Hybrid Child, is also being adapted into an anime. Her current series, The World's Greatest First Love, is running in Emerald magazine. Born on December 13, she's a Sagittarius with an O blood type.