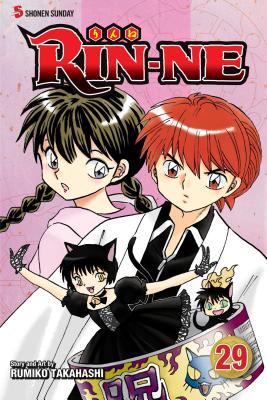 RIN-NE, Vol. 29
Paperback

* Individual store prices may vary.
Description
Manga legend Rumiko Takahashi's lighthearted tale of a girl who can see ghosts and a boy from the beyond.

After a mysterious encounter in her childhood, Sakura Mamiya gained the power to see ghosts. Now a teenager, she just wishes the ghosts would leave her alone! Then one day she meets Rinne Rokudo, a boy who is far more than what he seems.

After Rinne and Rokumon see a poster about a lost kitten in the Afterlife, Kain's black cat goes missing too. The plot thickens when Rokumon goes after the missing cats and disappears as well! Can Rinne figure out the mystery of the vanishing black cats?!
VIZ Media LLC, 9781421598697, 192pp.
Publication Date: March 12, 2019
About the Author
The spotlight on Rumiko Takahashi's career began in 1978 when she won an honorable mention in Shogakukan's prestigious New Comic Artist Contest for Those Selfish Aliens. Later that same year, her boy-meets-alien comedy series, Urusei Yatsura, was serialized in Weekly Shonen Sunday. This phenomenally successful manga series was adapted into anime format and spawned a TV series and half a dozen theatrical-release movies, all incredibly popular in their own right. Takahashi followed up the success of her debut series with one blockbuster hit after another—Maison Ikkoku ran from 1980 to 1987, Ranma 1/2 from 1987 to 1996, and Inuyasha from 1996 to 2008. Other notable works include Mermaid Saga, Rumic Theater, and One-Pound Gospel.


Takahashi was inducted into the Will Eisner Comic Awards Hall of Fame in 2018. She won the prestigious Shogakukan Manga Award twice in her career, once for Urusei Yatsura in 1981 and the second time for Inuyasha in 2002. A majority of the Takahashi canon has been adapted into other media such as anime, live-action TV series, and film. Takahashi's manga, as well as the other formats her work has been adapted into, have continued to delight generations of fans around the world. Distinguished by her wonderfully endearing characters, Takahashi's work adeptly incorporates a wide variety of elements such as comedy, romance, fantasy, and martial arts. While her series are difficult to pin down into one simple genre, the signature style she has created has come to be known as the "Rumic World." Rumiko Takahashi is an artist who truly represents the very best from the world of manga.