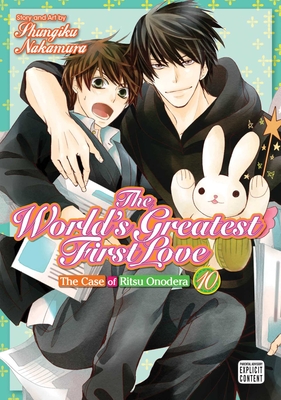 The World's Greatest First Love, Vol. 10 (Paperback)
The Case of Ritsu Onodera
SuBLime, 9781421599083, 168pp.
Publication Date: July 10, 2018
Other Editions of This Title:
Paperback (7/14/2015)
Paperback (4/9/2019)
Paperback (1/9/2018)
Paperback (1/8/2019)
Paperback (3/8/2016)
Paperback (10/11/2016)
Paperback (4/14/2015)
Paperback (10/13/2015)
Paperback (7/11/2017)
Paperback (4/11/2017)
Paperback (10/10/2017)
Paperback (4/14/2020)
* Individual store prices may vary.
Description
A fresh start turns sour after a manga editor's new boss turns out to be his ill-fated first love!

When Ritsu Onodera changes jobs, looking for a fresh start, he's not exactly thrilled when his new boss turns out to be his old flame. Ritsu's determined to leave all that in the past—but how can he when his boss is just as determined that they have a future?

Emerald manga editor Ritsu Onodera is still putting up with his cantankerous editor in chief—and first love!—Masamune Takano. After much objection, Ritsu's father has accepted his decision to break off his engagement to An. On the one hand, Ritsu's confused about his father's seeming indifference, while on the other, he wonders if this means he can finally determine his own future…a future with Takano, perhaps?
About the Author
Shungiku Nakamura, DOB December 13, Sagittarius, Blood Type O.