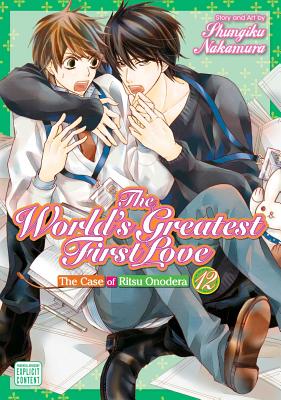 The World's Greatest First Love, Vol. 12
The Case of Ritsu Onodera (The World's Greatest First Love #12)
Paperback

* Individual store prices may vary.
Other Editions of This Title:
Paperback (10/13/2015)
Paperback (1/9/2018)
Paperback (7/10/2018)
Paperback (4/14/2015)
Paperback (4/14/2020)
Paperback (10/10/2017)
Paperback (4/13/2021)
Paperback (3/8/2016)
Paperback (7/14/2015)
Paperback (1/8/2019)
Paperback (4/11/2017)
Paperback (7/11/2017)
Paperback (10/11/2016)
Description
A fresh start turns sour after a manga editor's new boss turns out to be his ill-fated first love!

When Ritsu Onodera changes jobs, looking for a fresh start, he's not exactly thrilled when his new boss turns out to be his old flame. Ritsu's determined to leave all that in the past—but how can he when his boss is just as determined that they have a future?

Manga editor Ritsu Onodera continues working under the guiding hand of his boss and first love, Masamune Takano. After the department's fun (?) group vacation, Ritsu returns to the familiar hellscape of cycle end at Emerald. On his way to a meeting, he runs into Nao Kiyomiya, an old classmate and the only friend he had after Takano broke his heart. Will Ritsu fess up that the Masamune Saga who emotionally destroyed him in high school and the Masamune Takano he now calls his boss are one and the same?
SuBLime, 9781421599540, 162pp.
Publication Date: April 9, 2019
About the Author
Shungiku Nakamura is one of the most popular yaoi creators worldwide. She is best known for her series Junjo Romantica, which has been adapted into both an anime and drama CD. Her other English language title, Hybrid Child, is also being adapted into an anime. Her current series, The World's Greatest First Love, is running in Emerald magazine. Born on December 13, she's a Sagittarius with an O blood type.