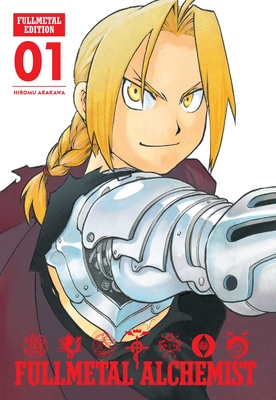 Fullmetal Alchemist (Hardcover)
Fullmetal Edition, Vol. 1
VIZ Media LLC, 9781421599779, 280pp.
Publication Date: May 8, 2018
Other Editions of This Title:
Hardcover (11/10/2020)
Hardcover (5/12/2020)
Hardcover (8/11/2020)
Hardcover (11/12/2019)
Hardcover (2/11/2020)
Hardcover (8/13/2019)
Hardcover (2/12/2019)
Hardcover (8/14/2018)
Hardcover (5/21/2019)
Hardcover (11/13/2018)
Hardcover (2/9/2021)
* Individual store prices may vary.
Description
Alchemy tore the Elric brothers' bodies apart. Can their bond make them whole again?

A hardcover, deluxe collector's edition of one of the most beloved manga and anime of all time! Fully remastered with an updated translation and completely fresh lettering, and presented with color pages on large-trimmed archival-quality paper, this gorgeous hardcover edition presents the timeless dark adventures of the Elric brothers as they were truly meant to be seen. Includes brand-new cover art, color inserts and behind-the-scenes character sketches from author Hiromu Arakawa!

In an alchemical ritual gone wrong, Edward Elric lost his arm and his leg, and his brother Alphonse became nothing but a soul in a suit of armor. Equipped with mechanical "auto-mail" limbs, Edward becomes a state alchemist, seeking the one thing that can restore his and his brother's bodies…the legendary Philosopher's Stone.
About the Author
Born in Hokkaido (northern Japan), Hiromu Arakawa first attracted national attention in 1999 with her award-winning manga Stray Dog. Her series Fullmetal Alchemist debuted in 2001 in Square Enix's monthly manga anthology Shonen Gangan.