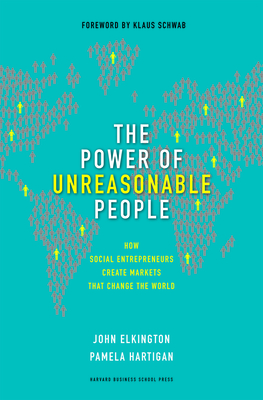 The Power of Unreasonable People
How Social Entrepreneurs Create Markets That Change the World (Leadership for the Common Good)
Hardcover

* Individual store prices may vary.
Description
Renowned playwright George Bernard Shaw once said The reasonable man adapts himself to the world, the unreasonable one persists in trying to adapt the world to himself. Therefore all progress depends on the unreasonable man. By this definition, some of today's entrepreneurs are decidedly unreasonable--and have even been dubbed crazy. Yet as John Elkington and Pamela Hartigan argue in The Power of Unreasonable People, our very future may hinge on their work. Through vivid stories, the authors identify the highly unconventional entrepreneurs who are solving some of the world's most pressing economic, social, and environmental problems. They also show how these pioneers are disrupting existing industries, value chains, and business models--and in the process creating fast-growing markets around the world. By understanding these entrepreneurs' mindsets and strategies, you gain vital insights into future market opportunities for your own organization. Providing a first-hand, on-the-ground look at a new breed of entrepreneur, this book reveals how apparently unreasonable innovators have built their enterprises, how their work will shape risks and opportunities in the coming years, and what tomorrow's leaders can learn from them. Start investing in, partnering with, and learning from these world-shaping change agents, and you position yourself to not only survive but also thrive in the new business landscape they're helping to define.
Harvard Business Review Press, 9781422104064, 272pp.
Publication Date: January 7, 2008
About the Author
John Elkington is the Founder, Chief Entrepreneur, and Non-Executive Director of the international consultancy SustainAbility, Ltd. Pamela Hartigan is Managing Director for the Schwab Foundation for Social Entrepreneurship.
or
Not Currently Available for Direct Purchase