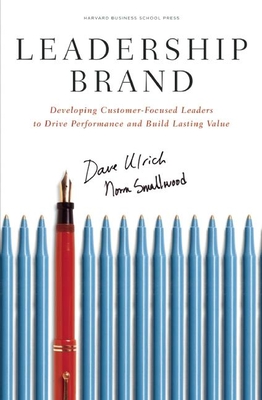 Leadership Brand (Hardcover)
Developing Customer-Focused Leaders to Drive Performance and Build Lasting Value
Harvard Business School Press, 9781422110300, 270pp.
Publication Date: August 13, 2007
Description
Your company's brands hold intangible value and differentiate your firm from rivals. So does your leadership brand--a shared identity among your organization's leaders that differentiates what they can do from what your rivals' leaders can do. In Leadership Brand, Dave Ulrich and Norm Smallwood show how branded leadership delivers unique value for firms' investors, customers, and employees--elevating market value and creating a sharp competitive edge. The authors present a six-step process for creating leadership brand in your organization. A wealth of tools helps you differentiate your firm's leaders from those of rivals, craft a unified identity among them, and articulate a unique statement of your brand. Additional chapters and tools show you how to assess and measure your leadership brand, where to invest in the brand, which practices instill the brand, and how to communicate the brand to your many stakeholders. With its compelling new model and hands-on approach, this book helps you clarify what makes your leaders unique--and use your leadership brand to leave rivals far behind.
About the Author
Dave Ulrich is Professor of Business at the University of Michigan and co-founder of The RBL Group, an education and consulting firm that helps organizations and leaders deliver value. He has published 12 books and more than 100 articles. Norm Smallwood is co-founder of The RBL Group and co-author of four books. He is also on the faculty of the Executive Education Center at the University of Michigan Business School. They are co-authors of Results-Based Leadership and How Leaders Build Value.
Advertisement