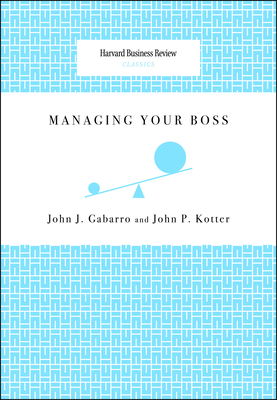 Managing Your Boss (Harvard Business Review Classics)
Paperback

* Individual store prices may vary.
Description
Managing your boss: Isn't that merely manipulation? Corporate cozying up? Not according to John Gabarro and John Kotter. In this handy guidebook, the authors contend that you manage your boss for a very good reason: to do your best on the job--and thereby benefit not only yourself but also your supervisor and your entire company. Your boss depends on you for cooperation, reliability, and honesty. And you depend on him or her for links to the rest of the organization, for setting priorities, and for obtaining critical resources. By managing your boss--clarifying your own and your supervisor's strengths, weaknesses, goals, work styles, and needs--you cultivate a relationship based on mutual respect and understanding. The result? A healthy, productive bond that enables you both to excel. Gabarro and Kotter provide valuable guidelines for building this essential relationship--including strategies for determining how your boss prefers to process information and make decisions, tips for communicating mutual expectations, and tactics for negotiating priorities. Thought provoking and practical, Managing Your Boss enables you to lay the groundwork for one of the most crucial working relationships you'll have in your career.
Harvard Business Review Press, 9781422122884, 55pp.
Publication Date: March 1, 2008
About the Author
John J. Gabarro is the UPS Foundation Professor of Human Resource Management at Harvard Business School in Boston. Now retired, John P. Kotter was the Konosuke Matsushita Professor Leadership at Harvard Business School.