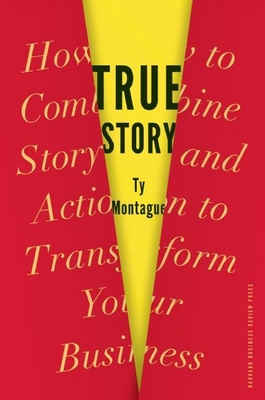 True Story (Hardcover)
How to Combine Story and Action to Transform Your Business
Harvard Business School Press, 9781422170687, 240pp.
Publication Date: July 16, 2013
* Individual store prices may vary.
Description
Is your company a storyteller--or a storydoer? The old way to market a business was storytelling. But in today's world, simply communicating your brand's story in the hope that customers will listen is no longer enough. Instead, your authentic brand must be evident in every action the organization undertakes. Today's most successful businesses are storydoers. These companies create products and services that, from the very beginning, are manifestations of an authentic and meaningful story--one told primarily through action, not advertising. In True Story, creative executive Ty Montague argues that any business, regardless of size or industry, can embrace the principles of storydoing. Indeed, our best-run companies--from small start-ups to global conglomerates--organize around a coherent narrative that is then broadcast through every action they take (from product design to customer service to marketing). Montague shows why storydoing firms are nimble, more adaptive to change, and more efficiently run businesses. Montague is a founder of the growth consultancy co: collective and the former president and CCO of J. Walter Thompson, the largest advertising agency in North America. He brings his depth of creative business experience to the book and provides a clear framework and proven process for bringing you and your customers together in the creation of your brand story. Montague introduces five critical elements--what he calls the "the four truths and the action map"--that are the foundation of storydoing:
- the participants (your customers, partners, and employees)
- the protagonist (your company today)
- the stage (the world around your business)
- the quest (your driving ambition and contribution to the world)
- your action map (the actions that will make your story real for participants) The book is filled with examples of how forward-thinking organizations--including Red Bull, Shaklee, Grind, TOMS Shoes, and News Corporation--are effectively using storydoing to transform their organizations and drive extraordinary results.

About the Author
Ty Montague is a founder of co: collective, a consultancy that helps clients develop their strategy and brand story using the principles of storydoing. The framework and several of the cases presented in True Story are based on what co: does for businesses of all sizes. Ty's work helping companies transform themselves has been featured in a cover story in Fast Company magazine. He is a frequent speaker and guest lecturer on creativity and innovation at leading business schools, including the Wharton School, NYU Stern School of Business, and Columbia Business School. He has been named one of the top ten creative minds in business by Fast Company.
or
Not Currently Available for Direct Purchase