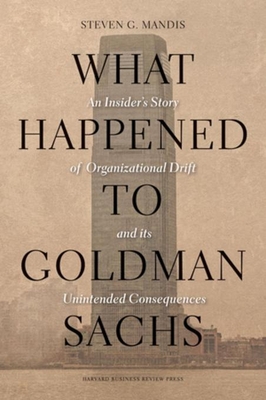 What Happened to Goldman Sachs? (Hardcover)
An Insider's Story of Organizational Drift and Its Unintended Consequences
Harvard Business Review Press, 9781422194195, 380pp.
Publication Date: October 1, 2013
Other Editions of This Title:
CD-Audio (4/30/2014)
* Individual store prices may vary.
Description
This is the story of the slow evolution of Goldman Sachs--addressing why and how the firm changed from an ethical standard to a legal one as it grew to be a leading global corporation. In What Happened to Goldman Sachs, Steven G. Mandis uncovers the forces behind what he calls Goldman's "organizational drift." Drawing from his firsthand experience; sociological research; analysis of SEC, congressional, and other filings; and a wide array of interviews with former clients, detractors, and current and former partners, Mandis uncovers the pressures that forced Goldman to slowly drift away from the very principles on which its reputation was built. Mandis evaluates what made Goldman Sachs so successful in the first place, how it responded to pressures to grow, why it moved away from the values and partnership culture that sustained it for so many years, what forces accelerated this drift, and why insiders can't--or won't--recognize this crucial change. Combining insightful analysis with engaging storytelling, Mandis has written an insider's history that offers invaluable perspectives to business leaders interested in understanding and managing organizational drift in their own firms.

About the Author
Steven G. Mandis worked at Goldman Sachs from 1992 to 2004 in its investment banking, private equity, and proprietary trading areas. He assisted Hank Paulson and other senior executives on special projects and eventually became a portfolio manager in one of the largest and most successful proprietary trading areas at Goldman Sachs. Post-Goldman, he cofounded a multibillion-dollar global alternative asset management firm that was a trading and investment banking client of Goldman Sachs. During the financial crisis, Mandis was a senior adviser to McKinsey & Company before accepting a senior executive position at Citigroup. Currently, he is an adjunct professor at Columbia Business School and a PhD candidate in the sociology department at Columbia University. He holds an AB from the University of Chicago and an MA and MPhil from Columbia University.
or
Not Currently Available for Direct Purchase