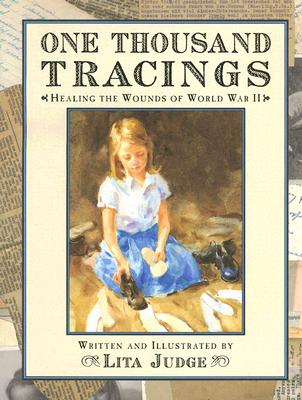 One Thousand Tracings (Hardcover)
Healing the Wounds of World War II
Disney-Hyperion, 9781423100089, 40pp.
Publication Date: July 1, 2007
* Individual store prices may vary.
Description
When author/illustrator Lita Judge found hundreds of tracings of feet in her grandmother's attic, she was intrigued and moved to share the story behind them.
One Thousand Tracings tells that story. In the aftermath of World War II a family in America established contact with a family in Germany and to help them sent them supplies, including shoes. The German family was extremely grateful and asked if their American friends would help others in Europe. Soon shoe tracings from all over the continent started pouring in to the modest Midwest farm. The network of families helping from the U.S. started to grow so that ultimately hundreds of people on both sides of the Atlantic were touched by this remarkable process.

Illustrated with a combination of paintings and collages of original photographs and foot tracings, this moving story is a granddaughter's tender tribute to her grandparent's who organized this relief effort. By sending hope and kindness they began healing the wounds of war. It is powerful reminder of the importance of humanitarianism during wartime.
About the Author
Lita Judge lives in Peterborough, NH with her husband and cat. She grew up with grandparents who were well known ornithologists and who were responsible for starting "The Action," the movement described in this book where ordinary Americans sent food, clothing, and scientific materials to Europeans who had survived WWII.
or
Not Currently Available for Direct Purchase