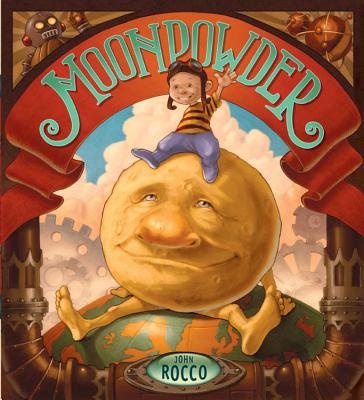 Moonpowder (Hardcover)
Disney-Hyperion, 9781423100119, 48pp.
Publication Date: May 1, 2008
* Individual store prices may vary.
Description
Young Eli Trebuckle is the "fixer of all things fixable." He fixes the vacuum cleaner, the fan, and even the radio, hoping to catch some news of his father who is away at war. But there's one thing that Eli simply can't fix-his bad dreams. It's the same one over and over again: a mountain of junk, a prize just beyond his reach, and a fall.

One night as Eli stays up late to work on his most recent invention and escape another nightmare, a mysterious, luminous, and somewhat bumbling man by the name of Mr. Moon appears at his window. He knows just what the matter with Eli is and promises to help him, if he can fix one more thing

And so Eli Trebuckle makes the journey to the broken Moonpowder factory. If he can get it up and running, he can ensure that the whole world will have sweet dreams! But can Eli face his greatest fears and meet the biggest challenge of his lifetime? With inspiring courage, determination, and a little faith, Eli proves that, happily, the answer is yes.
About the Author
John Rocco is the author and illustrator of Wolf! Wolf! and the illustrator of Alice, by Whoopi Goldberg. He earned his degrees from RISD and The School of the Visual Arts and worked for several years in L.A on such projects as Shrek (as Pre-Production Art Director) and at the Disneyquest theme park. He was the winner of the SCBWI New York Showcase in 2004 and again in 2007. John now lives and works in Brooklyn, NY.
or
Not Currently Available for Direct Purchase