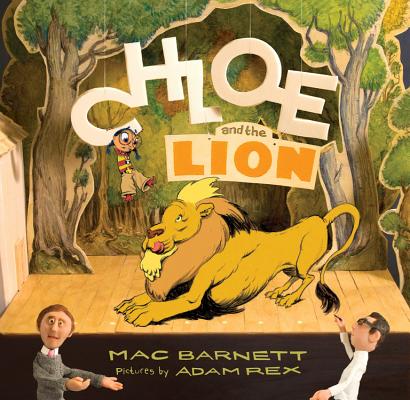 Chloe and the Lion
Hardcover

* Individual store prices may vary.
Description
The bestselling, dynamic duo of Mac Barnett and Adam Rex creatively spar as they battle to tell a tantalizing tale in this clever comedy sketch that breaks "the fourth wall".

Meet Chloe: Every week, she collects loose change so she can buy tickets to ride the merry-go-round. But one fateful day, she gets lost in the woods on her way home, and a large dragon leaps out from—"Wait! It's supposed to be a lion," says Mac Barnett, the author of this book. But Adam Rex, the illustrator, thinks a dragon would be so much cooler (don't you agree?). Mac's power of the pen is at odds with Adam's brush, and Chloe's story hangs in the balance. Can she help them out of this quandary to be the heroine of her own story?
"Twisty plotting, irreverent dialogue, visual hilarity, and sophisticated book design...an arch package." —Booklist

Don't miss these other books by Mac Barnett
Billy Twitters and His Blue Whale Problem
How This Book Was Made
Rules of the House
Oh No! (Or How My Science Project Destroyed the World)
Oh No! Not Again! (Or How I Built a Time Machine to Save History)
Praise For Chloe and the Lion…
* "Children old enough to understand the constructs of a book will delight in the comedic deconstruction, and adults will enjoy the references to traditional tales, from King Arthur to Frankenstein... Use this book to teach point of view and collaborative process."—School Library Journal

"The fourth wall is broken to bits in this meta-musing on the creation of a picture book....Storytelling tropes abound, skewered one after another by Chloe's infallible wherewithal, until she secures her just reward. As entertainment the story functions well, combining twisty potting, irreverent dialogue, visual hilarity, and sophisticated book design into an arch package. But beneath the silly surface, children will find a meaningful exposition of just what goes into a successful picture book, and how author, illustrator, and character must collaborate and compromise."—Booklist

"Take a vaudeville stage with some flimsy painted scenery, two clay figures that represent Barnett and Rex (Billy Twitters and His Blue Whale Problem), a brash and bespectacled heroine named Chloe (hand-drawn), a lion (also drawn), and some walk-on characters, and you've got a comedy sketch in picture-book form about the chaos involved in collaborative storytelling....Rat-a-tat dialogue and fresh visuals should keep it at the top of the bedtime pile."—Publishers Weekly
Little, Brown Books for Young Readers, 9781423113348, 48pp.
Publication Date: April 3, 2012
About the Author
Mac Barnett is the author of many books for children, including Extra Yarn, illustrated by Jon Klassen, a Caldecott Honor Book and winner of a Boston Globe-Horn Book Award; The Wolf, the Duck, and the Mouse, a New York Times bestseller; Sam and Dave Dig a Hole, a Caldecott Honor Book and winner of the E. B. White Read Aloud Award. Other titles include The Important Thing About Margaret Wise Brown, Chloe and the Lion, How This Book Was Made, Count the Monkeys, and Billy Twitters and His Blue Whale Problem. He is the co-author, with Jory John, of the New York Times bestselling series The Terrible Two. Mac lives in California.

Adam Rex is the multi-talented author of books for children, middle readers and young adults, as well as an accomplished illustrator. He has written such beloved picture books as School's First Day of School (illustrated by Christian Robinson), has created both pictures and words for favorites like Are You Scared, Darth Vader?, Nothing Rhymes with Orange, and Frankenstein Makes a Sandwich; and he has illustrated books by bestselling authors like The Legend of Rock Scissors Paper by Drew Daywalt, Chloe and the Lion by Mac Barnett, and Chu's Day by Neil Gaiman. The True Meaning of Smekday was his first novel, followed by Smek for President! and other books for middle and teen readers. He grew up in Phoenix, got a BFA from the University of Arizona, and now lives in Tucson.