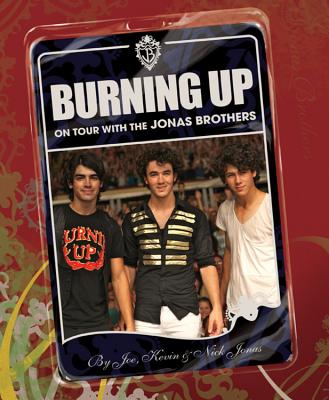 Burning Up: On Tour with the Jonas Brothers (Hardcover)
On Tour with the Jonas Brothers
Disney-Hyperion, 9781423120292, 144pp.
Publication Date: November 1, 2008
* Individual store prices may vary.
or
Not Currently Available for Direct Purchase
Description
Burning Up: On Tour with the Jonas Brothers is your backstage pass to life with Kevin, Joe, and Nick Jonas. It includes never-before-seen photos of the Jonas Brothers' Look Me in the Eyes tour and exclusive images taken during Hannah Montana & Miley Cyrus's Best of Both Worlds tour. You'll get a behind-the-scenes look at the band warming up, performing, and having fun backstage. This sizzling souvenir will also give you a glimpse of the downtime that the brothers have between gigs. In addition to pictures of the group laying down tracks at the recording studio for A Little Bit Longer, giving radio interviews, and sight-seeing in London, you'll see snap-shots of them bowling, racing Go-karts, and playing video games with the Bonus Jonas, younger brother Frankie. The dynamic photography is accompanied by a candid narrative by the Jonas Brothers themselves, chronicling their life on the road and their experiences growing up in the music world. They discuss everything from the songwriting process to the importance of family to their favorite kind of ice cream (Kevin's is rocky road!) So pick up your guitar and get ready to strum along--you're going on tour with the Jonas Brothers!
About the Author
Collaborator Laura Morton has written over thirty books with a range of celebrities including, Danica Patrick, Ed and Lois Smart - the parents of Elizabeth Smart, Criss Angel, Usher, Joan Lunden, Marilu Henner, Jerry Springer, Delta Burke, Denise Rich, Naomi Judd, Kathy Ireland, Melissa Etheridge, and Sandra Lee. Most recently, Laura collaborated on "You Can Run But You Can't Hide" (Hyperion) with Duane "Dog" Chapman. The book debuted at Number 1 on The New York Times best-seller list its first week in publication, remaining in the number one position for two consecutive weeks.
Advertisement