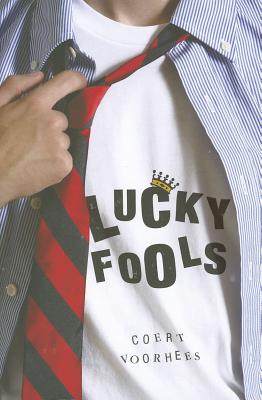 Lucky Fools (Hardcover)
Hyperion Books, 9781423123989, 293pp.
Publication Date: July 10, 2012
* Individual store prices may vary.
or
Not Currently Available for Direct Purchase
Description
"Voorhees has penned a hardhitting, bitingly satiric yet poignant tale of a senior year from hell."-Booklist David Ellison dreams of acting at Juilliard, but he's expected to attend nearby Stanford University, just like all of his classmates at hard-driving Oak Fields Prep. As if wasting his private school education weren't enough, David is also on track to destroy his relationship with his girlfriend, Ellen, when he finds himself falling for his new co-star, Vanessa.
With David's Juilliard audition approaching, and his relationship teetering on the brink of disaster, Oak Fields is thrown into chaos as a mysterious prankster begins attacking the school's highest achievers, determined to sabotage their college aspirations. Anyone who excels is a potential target, and David, the star of every play, could be next. From the author of the highly praised The Brothers Torres comes a dangerously insightful book about enduring the pressures of high school, surviving the ins and outs of love, and fighting for your dreams, no matter what.
About the Author
Coert Voorhees (www.coertvoorhees.com) was born and raised in New Mexico. A former Fulbright Scholar, Coert has lived all over the world and now resides with his family in Houston, Texas, where he received an MFA in Fiction from the University of Houston. His debut novel was the critically acclaimed "The Brothers Torres," and he is the creator and current mayor of the animated education series "Grammaropolis."
Advertisement