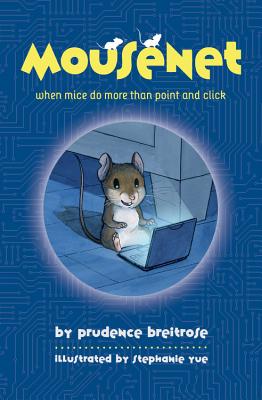 Mousenet (A Mousenet Book) (Hardcover)
Disney-Hyperion, 9781423124894, 400pp.
Publication Date: November 8, 2011
* Individual store prices may vary.
Description
When ten-year-old Megan helps her uncle invent the Thumbtop, the world's smallest computer, mice are overjoyed, and they want one for every mouse hole.

The Big Cheese, leader of the Mouse Nation, has orders: follow that girl-even if it means high-tailing it to Megan's new home on the other side of the country. While Megan struggles as the new girl, the mice watch, waiting for their chance. But when they tell Megan the biggest secret in the history of the world-mice have evolved, and they need her help-she isn't sure anyone will believe her. With all of Mouse Nation behind her, Megan could become the most powerful girl alive, but just how will she create a Thumptop for every mouse?

Brought to life with whimsical illustrations, Prudence Breitrose's debut novel is full of charm and adventure and will captivate today's computer-savvy middle-graders.
About the Author
Prudence Breitrose grew up in the part of England where Winnie the Pooh once roamed, but now lives in California. She worked as a health education writer until she had a dream that confused computer mice with the real thing. That got her started on this novel, which is her first. Visit her and Mouse Clan 1578 soon at www.mousenet.org. Stephanie Yue is a transplant from Atlanta, Beijing, and Hong Kong. She studied illustration in New York City, and currently shares a home with a hamster in Providence, RI. When she's not drawing, you may find her zipping around on a scooter, training in martial arts, and pretending to be a superhero.
or
Not Currently Available for Direct Purchase