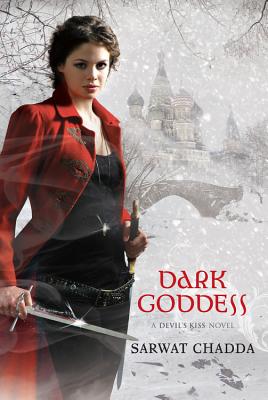 Dark Goddess (A Devil's Kiss Novel) (Hardcover)
Disney-Hyperion, 9781423127598, 384pp.
Publication Date: January 25, 2011
* Individual store prices may vary.
Description
Still reeling from the death of her best friend, Kay, Billi's thrust back into action when the Templars are called to investigate werewolf activity. But these werewolves are like nothing Bilil's ever seen.

They call themselves the Polenitsy: man killers. The ancient warrior women of Eastern Europe, supposedly wiped out centuries ago. But now they've come out of hiding and are on the hunt for a Spring
Child - an Oracle powerful enough to blow the volcano at Yellowstone - and start a Fimbulwinter that will wipe out humankind for good.

The Templars follow the stolen Spring Child to Russia, and the only people there who can fight the supernatural are the Bogatyrs, longtime enemies of the Templars. To reclaim the Spring Child and save the world, Billi needs to earn the trust of Ivan Romanov, a young Russian soldier whose suspicious of people in general, and of Billi in particular.

Dark Goddess is a page-turning, action-packed sequel that spans continents, from England to the Russian underworld and back. This is an adventure of folklore and myth become darkly real. Of the world running out of time. And of Billi SanGreal, the only one who can save it.
About the Author
Sarwat Chadda (www.sarwatchadda.com) was brought up on the adventures of the great medieval heroes like Saladin and Richard the Lionheart. His passion for storytelling grew from his love for the history, culture and myths of Europe and the Middle East.

Sarwat used to be an engineer, working on projects like the Channel Tunnel and Hong Kong airport, but now he writes full time. He has travelled widely, from China to India, from Nicaragua to the Yemen, but there's no place like home, and home is London.

Devil's Kiss was his first novel.
or
Not Currently Available for Direct Purchase