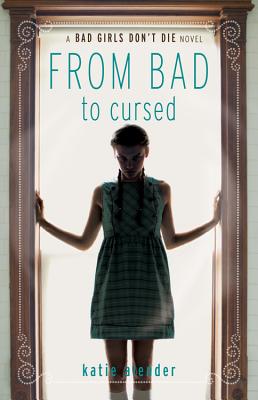 From Bad to Cursed (Hardcover)
Hyperion Books, 9781423134718, 442pp.
Publication Date: June 14, 2011
* Individual store prices may vary.
or
Not Currently Available for Direct Purchase
Description
Alexis is the last girl you'd expect to sell her soul. She already has everything she needs--an adorable boyfriend, the perfect best friend, and a little sister who's finally recovering after being possessed by an evil spirit, then institutionalized.

Alexis is thrilled when her sister joins a club; new friends are just what Kasey needs. It's strange, though, to see how fast the girls in The Sunshine Club go from dorky and antisocial to gorgeous and popular. Soon Alexis learns that the girls have pledged an oath to a seemingly benevolent spirit named Aralt. Worried that Kasey's in over her head again, Alexis and her best friend Megan decide to investigate by joining the club themselves. At first, their connection with Aralt seems harmless. Alexis trades in her pink hair and punky clothes for a mainstream look, and quickly finds herself reveling in her newfound elegance and success.

Instead of fighting off the supernatural, Alexis can hardly remember why she joined in the first place. Surely it wasn't to destroy Aralt...why would she hurt someone who has given her so much, and asked for so little in return?
About the Author
Katie Alender (http: \\katiealender.com), the author of the Bad Girls Don't Die series, is a graduate of the Florida State University Film School. When she's not writing novels, she can usually be found in her sewing room, making things for her friends or her dog (or her friends' dogs). She also enjoys reading, eating delicious high-calorie foods, and hanging out at home in Los Angeles with her husband, Chris, and her very spoiled Cavalier King Charles spaniel, Winston.
Advertisement