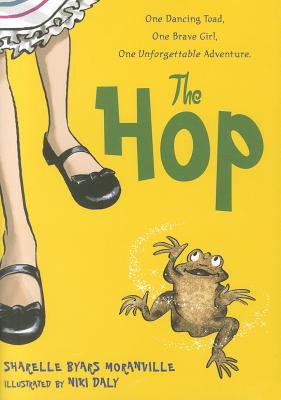 The Hop (Hardcover)
Hyperion Books, 9781423137368, 276pp.
Publication Date: March 20, 2012
* Individual store prices may vary.
or
Not Currently Available for Direct Purchase
Description
A small toad named Tad is in grave danger.
Rumbler, a monstrous earth-eating machine, is poised to destroy his home, Toadville-by-Tumbledown. The green grass, the blue pond-everything Tad knows might disappear. It is foretold that one brave young toad can help-but at a terrible price. Only if a toad kisses a human girl will Toadville be saved. Tad is called to rise to the challenge, disgusting though it seems. In the company of his best friend Buuurk, he sets off into the unknown. Meanwhile, a girl named Taylor is determined to stop her grandmother's pond from being turned into a strip mall. Perhaps, somewhere along the way, she will cross paths with a small, brave toad. Little does she know that his quest is the same as hers.
About the Author
Sharelle Byars Moranville is the author of several books for children and teenagers, including "Over The River," which "Publishers Weekly" said "mark[s] her as an author to watch." She also teaches creative writing. In her spare time, she can often be found with her hands immersed in the dirt of her garden in Iowa-the setting that helped inspire The Hop. You can see photographs by visiting www.sharellebyarsmoranville.com. Niki Daly is an award-winning illustrator of numerous books for children, several of which he has also written. He lives with his wife, Jude Daly (also an illustrator), in the South African seaside resort of Kleinmond right next to a colony of toads who sing at night.
Advertisement