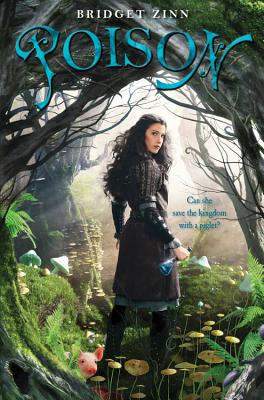 Poison (Hardcover)
Hyperion Books, 9781423139935, 276pp.
Publication Date: March 12, 2013
* Individual store prices may vary.
Description
Sixteen-year-old Kyra, a highly-skilled potions master, is the only one who knows her kingdom is on the verge of destruction-which means she's the only one who can save it. Faced with no other choice, Kyra decides to do what she does best: poison the kingdom's future ruler, who also happens to be her former best friend. But, for the first time ever, her poisoned dart misses. Now a fugitive instead of a hero, Kyra is caught in a game of hide-and-seek with the king's army and her potioner ex-boyfriend, Hal. At least she's not alone. She's armed with her vital potions, a too-cute pig, and Fred, the charming adventurer she can't stop thinking about. Kyra is determined to get herself a second chance (at murder), but will she be able to find and defeat the princess before Hal and the army find her?
Kyra is not your typical murderer, and she's certainly no damsel-in-distress-she's the lovable and quick-witted hero of this romantic novel that has all the right ingredients to make teen girls swoon. Praise for Poison "A frothy confection of a fairy tale featuring poisoners, princesses, perfumers and pigs, none of whom are exactly what they appear (except maybe the pigs) . Good silly fun-a refreshing antidote to a genre overflowing with grit and gloom." -Kirkus Reviews "This is a frothy fantasy confection filled with quick-witted dialogue, cliff-hanger chapter endings, and plenty of plot twists to keep readers guessing. With a strong and independent main character, a dash of romance, and plenty of magic and potions, readers tiring of damsel-in-distress stories are sure to applaud Kyra and her madcap adventures." -"Booklist Online" "Filled with unexpected twists, this frothy fantasy adventure offers readers a story with plenty of action, engaging humor, and a dollop of romance... M]any young teen and tween fantasy fans are likely to snap up this quick read with a feisty heroine." -"School Library Journal" "A fine rollicking adventure from start to finish. Zinn has crafted a marvelous tale." -Horn Book "Extraordinary." -Jennifer L. Holm, New York Times best-selling author
"Bridget Zinn's POISON is an absolute charmer of a book, full of adventure and romance and fun. I give it five stars-with an extra star for the cutest pig character you will ever meet." -Sarah Prineas, author of The Magic Thief series and the Winterling trilogy.
About the Author
Bridget Zinn was a writer, librarian, and teen literature enthusiast who lived with her husband and two feisty cats in Portland, Oregon, until her untimely passing in 2011. Poison is her debut novel.
or
Not Currently Available for Direct Purchase