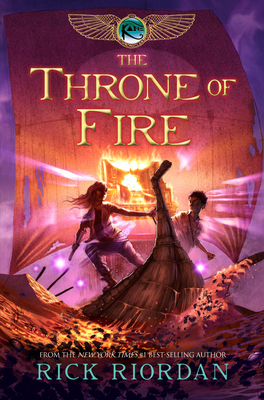 The Kane Chronicles, Book Two The Throne of Fire (Hardcover)
Disney-Hyperion, 9781423140566, 464pp.
Publication Date: May 3, 2011
Other Editions of This Title:
Paperback (10/6/2015)
Prebound (4/3/2018)
Hardcover (10/6/2015)
Paperback (8/14/2012)
* Individual store prices may vary.
Description
Ever since the gods of Ancient Egypt were unleashed in the modern world, Carter Kane and his sister, Sadie, have been in trouble. As descendants of the House of Life, the Kanes have some powers at their command; but the devious gods haven't given them time to master their skills at Brooklyn House, a training ground for young magicians. And now their most threatening enemy yet--the Chaos snake, Apophis--is rising. If they don't prevent him from breaking free in a few days' time, the world will end. In other words, it's a typical week for the Kane family.
To have any chance of battling the forces of Chaos, the Kanes must revive the sun god, Ra. But that would be a feat more difficult than any magician has ever accomplished. First they have to search the world for the Book of Ra, then they have to learn how to chant its spells. Oh, and did we mention that no one knows where Ra is, exactly?
Narrated by two different wisecracking voices, featuring a large cast of new and unforgettable characters, and with adventures spanning the globe, this second installment of the Kane Chronicles is nothing short of a thrill ride.



About the Author
Rick Riordan (www.rickriordan.com) is the author of three different mythology-based series for Disney-Hyperion: the best-selling Percy Jackson series, the Kane Chronicles, and The Heroes of Olympus series. The first book in the Kane Chronicles, The Red Pyramid, was a number 1 New York Times bestseller. The five books in the Percy Jackson and the Olympians series have sold millions of copies, been published in more than thirty countries, and inspired a major motion picture. Rick's novels for adults include the hugely popular Tres Navarre series, winner of the top three awards in the mystery genre. He lives in San Antonio, Texas, with his wife and two sons.