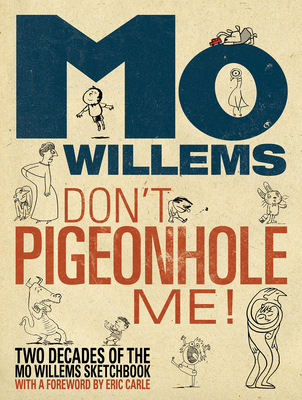 Don't Pigeonhole Me! (Two Decades of the Mo Willems Sketchbook) (Hardcover)
Disney Editions, 9781423144366, 288pp.
Publication Date: June 18, 2013
* Individual store prices may vary.
Description

Young readers first met the Pigeon, a beleaguered bird desperate for a shot behind the wheel of a bus, in 2003. Don't Let the Pigeon Drive the Bus! went on to sell millions of copies, receive a Caldecott Honor, and spawn additional picture books, apps, games, and even silly bands.

But did you know the Pigeon was born many years earlier in the pages of a sketchbook?

In Don't Pigeonhole Me! Two Decades of the Mo Willems Sketchbook, readers are given a rare glimpse into the mind of the man the New York Times described as "The biggest new talent to emerge thus far in the '00s." Since he was a teenager, Mo has been creating characters and scribbling ideas in the pages of sketchbooks. In the early 1990s, he started self-publishing collections of his drawings, and The Mo Willems Sketchbook was created. What began as a calling card for his work has morphed over the years from a form of therapy, to an opportunity to explore and experiment, to a gift for friends and loved ones. But these sketchbooks have always been (and continue to be) the well from which Mo draws ideas and inspiration.

Featuring a foreword by Eric Carle and an introduction by Mo, this volume includes all twenty sketchbooks from the last two decades. Don't Pigeonhole Me! reveals the author/illustrator at his most truthful, most experimental, most grown-up.

Most Mo.

Want to know where ideas come from? Look inside.

About the Author

Mo Willems (www.pigeonpresents.com), a number one New York Times best-selling author and illustrator, has been publishing children's books since 2003. He has received three Caldecott Honors (for Don't Let the Pigeon Drive the Bus!, Knuffle Bunny: A Cautionary Tale, and Knuffle Bunny Too: A Case of Mistaken Identity); two Theodor Seuss Geisel Honors (for We Are in a Book! and I Broke My Trunk!); and two Theodor Seuss Geisel Medals (for There Is a Bird on Your Head! and Are You Ready to Play Outside?). His first picture book, Don't Let the Pigeon Drive the Bus!, was inducted into the Indies Choice Picture Book Hall of Fame in 2009. Other favorites include The Duckling Gets a Cookie!? and Leonardo, the Terrible Monster.

While best known for his work in publishing, Mo began his career as a writer and animator on Sesame Street, where he garnered six Emmy Awards. He also created and executive-produced the animated series Sheep in the Big City and served as head writer for Codename: Kids Next Door. Additionally, Mo provided the book and lyrics for Knuffle Bunny: A Cautionary Musical, which premiered at the Kennedy Center in May 2010. And his first app, Don't Let the Pigeon Run This App!, was an iTunes Best of the Year in 2011.

See above.