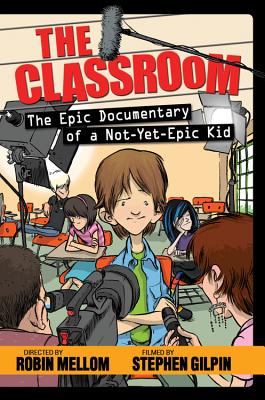 The Classroom (the Epic Documentary of a Not-Yet-Epic Kid) (Hardcover)
Disney-Hyperion, 9781423150633, 288pp.
Publication Date: June 19, 2012
* Individual store prices may vary.
Description

A documentary crew has descended upon Westside Middle School to detail the life of an average seventh grader and his classmates.
What they uncover, though, is far from average. Mostly, it is upper average along with moments of extreme average, highlighted by several minutes of total epicness.
Trevor Jones has been preparing for the start of seventh grade his entire summer. But he is NOT ready for the news his best friend, Libby, drops on him at the bus stop: he needs to branch out and make new friends. Oh, and he must ask a girl to the fall dance. By the end of the day.
Trevor decides that he would rather squirt hot sauce in his eyes than attend the dance. Everything changes, though, when he meets mysterious new student Molly. Trevor starts to think that going to the dance maybe wouldn't be the worst thing ever. But with detention-wielding teachers, school gossips, and, worst of all, eighth graders conspiring against him, Trevor will have to do the one thing he wasn't prepared to do: be epic
Praise for The Classroom: The Epic Documentary of a Not-Yet-Epic Kid
There's so much to love about this laugh-out-loud-funny story of what happens to Trevor Jones, who is just starting the seventh grade at Westside Middle School. All in one day, Trevor starts school, loses his best friend and has to deal with a film crew documenting the life of a "typical middle school student." The story is told a bit in the style of a movie; the chapters are short, and there are cute drawings and doodles on the pages. Total fun for the end of the summer and the start of school.
" ""The Washington Post (Kids Post)"
"This documentary set out to show the real story of Trevor, along with his normal, everyday, average classmates.... Westside is their middle school. And these are their stories." With an introduction like that (and the subtitle), readers may expect more of a documentary-style novel than what Mellom (Ditched: A Love Story) actually delivers in her first middle-grade novel. Most of her story unfolds through good old third-person omniscient narration, interspersed with occasional "interviews" with seventh-grader Trevor Jones and his classmates. Fortunately, Mellom has a gift for school-days humor, and her novel is very entertaining. Trevor, a consummate worrier, and Libby, a consummate planner, have been best friends for years, but as they begin the school year, Libby, tired of covering for Trevor's (many) gaffes, believes it is time for them to make new friends. Gilpin's spot art (not all seen by PW) is a mix of notes, cartoons, and other "found materials" that add to the book's sense of fun as romantic entanglements and misunderstandings proliferate in the days leading up to the school dance. Ages 9 12.
" ""Publishers Weekly.
About the Author
Robin Mellom used to teach middle schoolers and now she writes about them. (Any fictional characters that resemble her previous real-life students is purely coincidental. Probably.) She is also the author of "Ditched: A Love Story." She lives with her husband and son on the Central Coast of California. Learn more at www.robinmellom.com and follow her on Twitter (@robinmellom).

Through a freak incident involving a school bus, a Labrador retriever, and twenty-four rolls of toilet paper, Stephen Gilpin knew that someday he would be an artist. He applied himself diligently and many years later, he has found himself the illustrator of around thirty children's books. He lives in Hiawatha, Kansas with his genius wife, Angie and a whole bunch of kids. Visit his Web site at www.sgilpin.com.
or
Not Currently Available for Direct Purchase