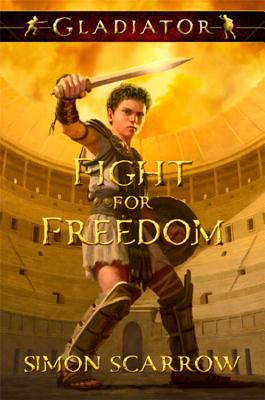 Gladiator Fight for Freedom: Fight for Freedom (Hardcover)
Fight for Freedom
Disney-Hyperion, 9781423151012, 272pp.
Publication Date: April 1, 2012
* Individual store prices may vary.
or
Not Currently Available for Direct Purchase
Description
Eleven-year-old Marcus Cornelius Primus has been torn from hisidyllic childhood and recruited as a gladiator, facing a life of intensetraining governed by strict rules. As he learns what it takes to become anelite warrior, Marcus makes new friends and masters valuable skills, but healso makes a dangerous enemy who will stop at nothing to make Marcus's lifemiserable.
But Marcus has no intention of staying in gladiator schoolforever. He is determined to find his father's old commander to right thewrongs that have been done to Marcus's family. Escape won't be easy, with thethreat of punishment and battle in the arena looming large. Yet, unbeknownst toMarcus, he carries a secret that might hold the key to his freedom and that ofall of the Empire's slaves. And if the Romans discover it, there will be noescape. Internationally bestselling author Simon Scarrow brings his considerabletalents to the younger audience in this suspenseful, thrilling, andaction-packed journey through the perils and delights of Ancient Rome.
About the Author
Simon Scarrow was born in Africa and lived in a number of countries including Hong Kong and the Bahamas before settling in Britain, where he is a bestselling author. He has always been interested in writing and his love of history began at school, fostered by his Latin and History teachers. He went on to become a teacher himself and now writes full-time. The author of two successful series written for adults, this is Mr. Scarrow's first book for young readers.
Advertisement