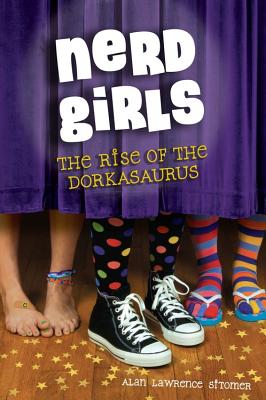 Nerd Girls: The Rise of the Dorkasaurus (Paperback)
The Rise of the Dorkasaurus
Disney-Hyperion, 9781423155072, 224pp.
Publication Date: July 1, 2012
* Individual store prices may vary.
or
Not Currently Available for Direct Purchase
Description
Maureen, a thirteen-year-old self-proclaimed dork-a-saurus, is totally addicted to cupcakes and hot dogs and thinks that her body looks like a baked potato. Allergy-plagued Alice can't touch a mango without breaking out in a rash, and if she eats wheat, her vision goes blurry. Klutzy to the extreme, Barbara is a beanpole who often embarrasses herself in front of the whole school. These outcasts don't have much in common--other than the fact that they are often targets of the ThreePees: the Pretty, Popular, Perfect girls who rule the school. But one day Maureen discovers that the ThreePees are planning to sit next to Allergy Alice in the cafeteria and eat peanut-butter-and-banana sandwiches on whole wheat toast with mango marmalade for lunch. And Maureen decides that it's time to topple the eight-grade social regime. She joins forces with Alice and Barbara and the Nerd Girls enter the school talent show, determined to take the crown from the ThreePees. Will their routine be enough to de-throne the popular crowd? Or will their plan backfire and shake their hold on the bottom rung of the social ladder?
About the Author
Alan Lawrence Sitomer is California's 2007 Teacher of the Year. In addition to being an inner-city high school English teacher and professor in the Graduate School of Education at Loyola Marymount University, Mr. Sitomer is a nationally renowned speaker specializing in engaging reluctant readers who received the 2004 award for Classroom Excellence from the Southern California Teachers of English and the 2003 Teacher of the Year honor from California Literacy. Alan's previous books include The Hoopster, Hip-Hop High School, Homeboyz, and The Secret Story of Sonia Rodriguez. Alan is also the author of "Hip-Hop Poetry and The Classics," a text used in classrooms across the United States to engage disengaged students.
Advertisement