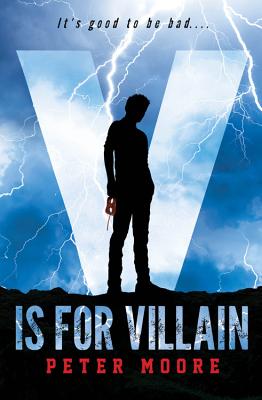 V is for Villain (Hardcover)
Disney-Hyperion, 9781423157496, 336pp.
Publication Date: May 20, 2014
Other Editions of This Title:
Paperback (5/5/2015)
* Individual store prices may vary.
About the Author
Peter Moore (petermoorebooks.com) has been fascinated with superheroes since he was old enough to trip over his own cape. (He didn't make a very graceful hero.) After a brief life of crime (he shoplifted some candy and got caught) he decided to devote his energy to the forces of good. Lacking super-strength, he took to working out and became strong. Lacking super-intelligence, he studied hard in high school and read a lot, which enabled him to attend Vassar College and Columbia University. Lacking superior fighting skills, he trained in boxing and Goju-Ryu karate. Finding job opportunities for aspiring heroes to be scarce, he instead has worked as a screenwriter, college professor, English teacher, film teacher, and guidance counselor. He lives with his wife and two kids in an undisclosed headquarters somewhere in New York state where he allegedly works on his writing. This is his fourth book for young adults. He strongly denies allegations that any character in this book is based on him.
Praise For V is for Villain…
PRAISE FOR RED MOON RISING

"The details are imaginative and believable, as are the social interactions at school and in Danny's home. This is a nifty book to pair with discussions about race and class, and a few direct references to Nazis also make it potentially useful for history connections."—Booklist

PRAISE FOR RED MOON RISING

"Moore tackles important issues such as self-esteem, prejudice/discrimination, loyalty, and acceptance, all woven into a teen paranormal adventure drama Fans of the genre will enjoy this different spin on the supernatural."—School Library Journal

PRAISE FOR RED MOON RISING

"Moore ably keeps this novel from becoming simply social commentary by allowing Danny, a kid far more concerned with his new love, his future, and his newly found wulf strength than what he might represent in larger society, to narrate his own transformative experience."—The Bulletin of the Center for Children?s Books
or
Not Currently Available for Direct Purchase