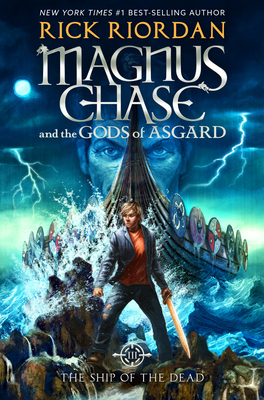 Magnus Chase and the Gods of Asgard, Book 3 The Ship of the Dead (Magnus Chase and the Gods of Asgard, Book 3)
Hardcover

* Individual store prices may vary.
Other Editions of This Title:
Digital Audiobook (10/2/2017)
Paperback (4/2/2019)
Hardcover, Spanish (5/29/2018)
Hardcover, Large Print (10/4/2017)
CD-Audio (10/3/2017)
Description
Life preservers are mandatory for this wet, wild, and wondrous adventure, the third entry in Rick Riordan's New York Times #1 best-selling Norse mythology trilogy, which features a cameo from Percy Jackson.
Magnus Chase, a once-homeless teen, is a resident of the Hotel Valhalla and one of Odin's chosen warriors. As the son of Frey, the god of summer, fertility, and health, Magnus isn't naturally inclined to fighting. But he has strong and steadfast friends, including Hearthstone the elf, Blitzen the dwarf, and Samirah the Valkyrie, and together they have achieved brave deeds, such as defeating Fenris Wolf and battling giants for Thor's hammer, Mjolnir. Now Magnus faces his most dangerous trial yet. His cousin, Annabeth, recruits her boyfriend, Percy Jackson, to give Magnus some pointers, but will his training be enough?
Loki is free from his chains. He's readying Naglfar, the Ship of the Dead, complete with a host of giants and zombies, to sail against the Asgardian gods and begin the final battle of Ragnarok. It's up to Magnus and his friends to stop him, but to do so they will have to sail across the oceans of Midgard, Jotunheim, and Niflheim in a desperate race to reach Naglfar before it's ready to sail.
Along the way, they will face angry sea gods, hostile giants, and an evil fire-breathing dragon. Magnus's biggest challenge will be facing his own inner demons. Does he have what it takes to outwit the wily trickster god?
Praise For Magnus Chase and the Gods of Asgard, Book 3 The Ship of the Dead (Magnus Chase and the Gods of Asgard, Book 3)…
PRAISE FOR THE HAMMER OF THOR

"There's some crossover with characters from Riordan's other series, and the ending promises more overlap in future installments. A surefire hit."—<EM>Booklist</EM>

PRAISE FOR THE HAMMER OF THOR

"This latest installment in Riordan's Nordic-themed fantasy series is a fast-paced adventure narrative featuring snappy dialogue and a diverse cast of well-developed characters. The author possesses a singular talent for re-creating contemporary teenspeak. An entertaining sequel that will whet fans' appetites for the next installment."—<EM>Kirkus Reviews</EM>

PRAISE FOR THE SWORD OF SUMMER

"A whirlwind of myth, action, and wry sarcasm, perfect for readers hungry for a new hit of that Percy Jackson-type magic."—<EM>Horn Book</EM>

PRAISE FOR THE SWORD OF SUMMER

"Norse myths are in right now, and Riordan has the magic touch."—<EM>Booklist</EM>

PRAISE FOR THE SWORD OF SUMMER

"With an epic plot, engaging (and diverse) characters, and tons of wisecracking humor, Riordan's latest is a page-turner."—<EM>School Library Journal</EM>

PRAISE FOR THE SWORD OF SUMMER

"The Sword of Summer combines the glory of Norse myth with the joy of Rick Riordan's effervescent world-building. One of Riordan's funniest books—everything from the chapter titles to the wry humor of Magnus Chase will have you chuckling, even as the plot races along at breakneck speed. Check me in to Hotel Valhalla, please. I'll be staying."—<EM>New York Times</EM> #1 best-selling author Cassandra Clare

PRAISE FOR THE SWORD OF SUMMER

"The Sword of Summer is a propulsive, kinetic, witty rebooting of Norse mythology with all the charm of the Percy Jackson novels. Instantly likeable heroes! Insane action! Cool villains! A twisting, turning, always exciting story! Rick Riordan does it again, even better."—<I>New York Times</I> best-selling author Michael Grant<INS dateTime=2015-06-18T17:00 cite="mailto:s

PRAISE FOR THE SWORD OF SUMMER

"Rick Riordan's new series is simply brilliant—maybe his best yet! I thought I knew Norse mythology, but now that I've read the gripping and hilarious Sword of Summer, I'll never see Thor the same way again. Get ready to stay up all night reading!"—<EM>New York Times</EM> #1 best-selling author Harlan Coben
Disney-Hyperion, 9781423160939, 432pp.
Publication Date: October 3, 2017
About the Author
Rick Riordan, dubbed "storyteller of the gods" by Publishers Weekly, is the author of five #1 New York Times best-selling middle grade series with millions of copies sold throughout the world: Percy Jackson and the Olympians, The Heroes of Olympus, and the Trials of Apollo, based on Greek and Roman mythology; the Kane Chronicles, based on Ancient Egyptian mythology; and Magnus Chase and the Gods of Asgard, based on Norse mythology. Rick collaborated with illustrator John Rocco on two #1 New York Times best-selling collections of Greek myths for the whole family: Percy Jackson's Greek Gods and Percy Jackson's Greek Heroes. Rick lives in Boston, Massachusetts with his wife and two sons. Follow him on Twitter at @camphalfblood.