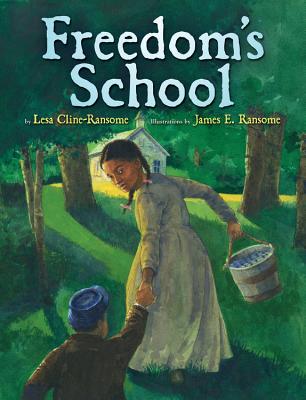 Freedom's School (Hardcover)
Little, Brown Books for Young Readers, 9781423161035, 32pp.
Publication Date: January 13, 2015
* Individual store prices may vary.
Description
When Lizzie's parents are granted their freedom from slavery, Mama says its time for Lizzie and her brother Paul to go to a real school--a new one, built just for them. Lizzie can't wait. The scraps of learning she has picked up here and there have just made her hungry for more.

The walk to school is long. Some days it's rainy, or windy, or freezing cold. Sometimes there are dangers lurking along the way, like angry white folks with rocks, or mysterious men on horseback. The schoolhouse is still unpainted, and its very plain, but Lizzie has never seen a prettier sight. Except for maybe the teacher, Mizz Howard, who has brown skin, just like her.

They've finally made it to Freedom's School. But will it be strong enough to stand forever?
Praise for Light in the Darkness

"In this tale, [Cline-Ransome] makes the point that learning was not just a dream of a few famous and accomplished men and women, but one that belonged to ordinary folk willing to risk their lives. Ransome's full-page watercolor paintings-in beautiful shades of blue for the night and yellow for the day-are a window, albeit somewhat gentle, into a slave's life for younger readers. A compelling story about those willing to risk "[a] lash for each letter." -Kirkus Reviews

"Told from the perspective of Rosa, a girl who makes the dangerous nighttime journey to the lessons with her mother, the story effectively conveys the urgent dedication of the characters to their surreptitious schooling and their belief in the power of literacy...Solid text and soft, skillful illustrations combine for a poignant tribute to the power of education and the human spirit."-School Library Journal

About the Author
Lesa Cline-Ransome (www.lesaclineransome.com) and James E. Ransome have paired up to create several acclaimed picture books, including Satchel Paige, Young Pele, Quilt Alphabet, Before There Was Mozart, Words Set Me Free: The Story of Young Frederick Douglass, Benny Goodman and Teddy Wilson, and Light in the Darkness. Lesa is also the author of Before Now, illustrated by G. Brian Karas. Freedom was inspired by her research into African American education immediately following the Emancipation Proclamation.


James E. Ransome (www.jamesransome.com) has illustrated nearly fifty books for children, including The Creation, a Coretta Scott King Award Book; Uncle Jed's Barbershop, a Coretta Scott King Honor Book; This Is the Dream; and A Pride of African Tales, an NCSS/CBC Notable Children's Trade Book in the Field of Social Studies. His traveling exhibit Visual Stories has been touring the United States since 2003. The Children's Book Council named him one of seventy-five authors and illustrators everyone should know. Lesa and James live in Rhinebeck, New York, with their four children and their Saint Bernard, Nola.
Praise For Freedom's School…
PRAISE FOR LIGHT IN THE DARKNESS

"In this tale, [Cline-Ransome] makes the point that learning was not just a dream of a few famous and accomplished men and women, but one that belonged to ordinary folk willing to risk their lives. Ransome's full-page watercolor paintings-in beautiful shades of blue for the night and yellow for the day-are a window, albeit somewhat gentle, into a slave's life for younger readers. A compelling story about those willing to risk "[a] lash for each letter."—-Kirkus Reviews

PRAISE FOR LIGHT IN THE DARKNESS

"Told from the perspective of Rosa, a girl who makes the dangerous nighttime journey to the lessons with her mother, the story effectively conveys the urgent dedication of the characters to their surreptitious schooling and their belief in the power of literacy...Solid text and soft, skillful illustrations combine for a poignant tribute to the power of education and the human spirit."—-School Library Journal