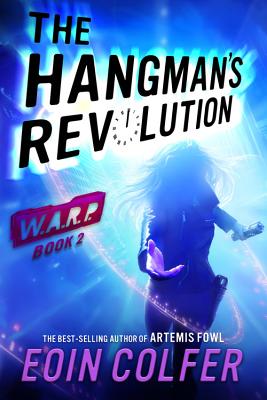 The Hangman's Revolution (W.A.R.P. #2) (Hardcover)
Hyperion Books, 9781423161639, 376pp.
Publication Date: June 24, 2014
Description
Young FBI agent Chevie Savano arrives back in modern-day London after a time-trip to the Victorian age, to find the present very different from the one she left. Europe is being run by a Facsist movement known as the Boxites, who control their territory through intimidation and terror. Chevie's memories come back to her in fragments, and just as she is learning about the WARP program from Professor Charles Smart, inventor of the time machine, he is killed by secret service police. Now they are after Chevie, too, but she escapes--into the past. She finds Riley, who is being pursued by futuristic soldiers, and saves him. Working together again, it is up to Chevie and Riley to find the enigmatic Colonel Clayton Box, who is intent on escalating his power, and stop him before he can launch missiles at the capitals of Europe.
About the Author
Eoin Colfer (www.eoincolfer.com) is the New York Times best-selling author of the Artemis Fowl series, as well as WARP Book 1: The Reluctant Assassin, Airman, Half Moon Investigations, The Supernaturalist, Eoin Colfer's Legend of... books, The Wish List, Benny and Omar; and Benny and Babe. He lives in Ireland with his wife and two children.
Advertisement