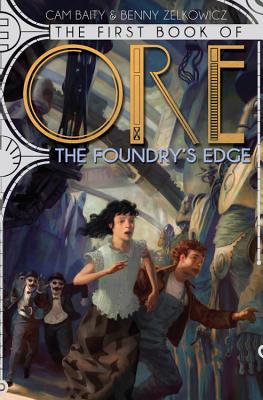 The First Book of Ore The Foundry's Edge (The Books of Ore, Book 1) (Hardcover)
Disney-Hyperion, 9781423162278, 448pp.
Publication Date: April 15, 2014
* Individual store prices may vary.
Description
For Phoebe Plumm, life in Meridian revolves around trading pranks with irksome servant Micah Tanner and waiting for her renowned father, Dr. Jules Plumm, to return home. Chief surveyor for the Foundry, a global corporation with control of metal production and technology, Phoebe's father is in the field for months at a time. But when a sudden and unexpected reunion leads to father and daughter's being abducted, Phoebe and would-be hero Micah find themselves stranded in a stunning and volatile alien world-one that has been ruthlessly plundered by the Foundry for centuries and is the secret source of every comfort and innovation the two refugees have ever known.

Cam Baity and Benny Zelkowicz have fashioned an intensely inventive, engaging, and thought-provoking tale of two worlds on a collision course and the two young rivals who find themselves on the front line. The Foundry's Edge is the first book in a trilogy that will transport young readers down a mechanical rabbit hole and send them on an adventure that explores the hidden costs of indulgence, the perils of unchallenged nationalism, and the world-altering power of compassion and conviction.
About the Author

CAM BAITY & BENNY ZELKOWICZ are writers, animators, and filmmakers who began collaborating after meeting at California Institute of the Arts. A Texas native, Cam has made several short films, and his work has been screened at numerous festivals around the globe, including the BBC British Short Film Festival. In addition, he worked on the motion picture Team America: World Police as well as the award-winning television series SpongeBob SquarePants. Canadian-born Benny studied science before turning his attention to animation, and his celebrated short The ErlKing was an official selection at both Sundance and the New York Film Festival. He has directed the BBC/CBC animated series Lunar Jim, and in the U.S. his work has been seen on television in The Simpsons. Both have contributed to Adult Swim's Robot Chicken and Moral Orel and reside in Los Angeles. Learn more about them at camandbenny.com.