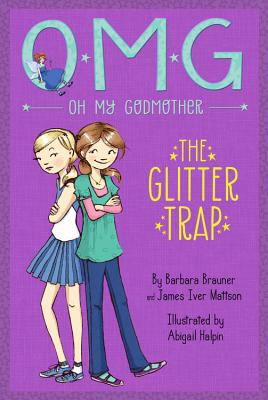 The Glitter Trap (Oh My Godmother) (Hardcover)
Disney-Hyperion, 9781423163732, 240pp.
Publication Date: May 14, 2013
* Individual store prices may vary.
Description
Middle school is far from a fairytale for adorkable misfit Lacey Unger-Ware. When Lacey ends up with popular girl Paige Harrington's smart-mouthed fairy godmother, Katarina, trapped in her hair, life gets more magical-just not in a prince charming' kind of way.

Katarina's wings are too damaged to continue her fairy duties, and Lacey must take over as Paige's fairy godmother. Distracted by her new responsibilities, Lacey's in danger of losing her best friend, Sunny. Can Lacey get the hang of magic, make Paige's dreams come true, and survive middle school?

Barbara Brauner and James Iver Mattson's debut novel is full of heart and charm. Get ready for the Oh My Godmother series to cast a spell on tween girls!
Praise for OH MY GODMOTHER: THE GLITTER TRAP
"With all the twists, mishaps, and slapstick of a sitcom, Brauner and Mattson's lively debut will hook readers. Halpin's energetic b&w illustrations are frosting on this comedic confection of a book." -Publishers Weekly
"Featuring zany escapades, madcap magic and a cantankerous fairy godmother, this effervescent series debut enchants." -Kirkus
"This modern spin on a popular fairy tale will leave tweens LOLing."-
Booklist
About the Author
Barbara Brauner grew up in a house that had so many books her father had to brace the floors. After she moved to Los Angeles to work in the movie business, she met James, who's been her writing partner ever since. Barbara lives with her bite-y, scratchy, and yet still oddly lovable rescue cat Jeeves.

Before he started writing with Barbara, James Iver Mattson worked in motion picture special effects, which, just like Oh My Godmother, often involved a lot of sparkles. James' cat is named Fred, who is Jeeves' sweeter-natured brother.

Visit the duo online at www.braunermattson.com. Abigail Halpin lives, draws, and dreams in northern New England. When not drawing, she can frequently be found armed with a pair of knitting needles, a stack of books, or making a racket on the piano. Visit her at www.theodesign.com.
or
Not Currently Available for Direct Purchase