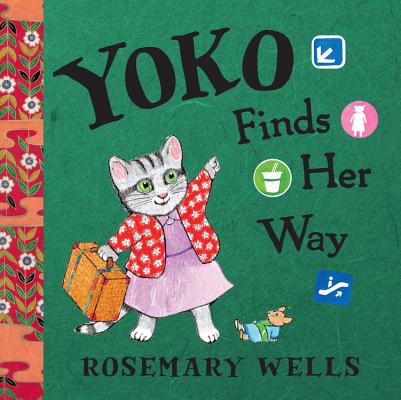 Yoko Finds Her Way (Hardcover)
Disney-Hyperion, 9781423165125, 32pp.
Publication Date: April 8, 2014
Description
Yoko and her mama are going on a trip to Japan Yoko helps Mama get to and through the airport by reading signs along the way. By the time they get to their gate, Mama is exhausted. While Mama naps, Yoko goes to the washroom. But "Oh, no " Yoko takes the wrong exit and finds herself in a completely different part of the terminal. Before she knows it, Yoko is on the moving walkway, zipping toward Baggage Claim. Will she be able to follow the signs back to her mama? With her flair for sly humor, Rosemary Wells defuses an anxious situation by keeping Yoko cool and confident, unlike poor Mama Readers will enjoy reading the signs along with Yoko in this happy-ending story about navigating a very big but very friendly airport.
About the Author
Rosemary Wells (www.rosemarywells.com) is the award-winning author of numerous books, including Carry Me!; My Kindergarten; the New York Times best-selling Emily's First 100 Days of School; and several other stories about the character in this book: Yoko; Yoko's Paper Cranes; Yoko's Show-and-Tell; Yoko Learns to Read; and Yoko Writes Her Name, which Booklist called "meaningful and delightful in equal measure" in a starred review. She has become a household name in children's books, primarily due to her beloved Max and Ruby books, which inspired an animated series on PBS. She lives in Greenwich, Connecticut.
Advertisement