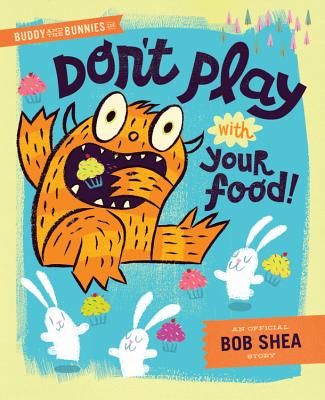 Buddy and the Bunnies in
Don't Play with Your Food!
Hardcover

* Individual store prices may vary.
Description
From the hilarious creator of Unicorn Thinks He's Pretty Great comes this silly-but-sweet story about a (not-at-all-scary) monster who tries to play with his prey!

Rah! Buddy's a monster, and he's hungry! Time for all cute little bunnies to hop into his mouth. "Oh no!" they say. "There are cupcakes in the oven!" They offer Buddy some, and he becomes too full to eat the bunnies. He'll have to come back tomorrow. And so it goes between Buddy and the bunnies -- they take him swimming, after which he is too tired to eat; they take him on all the rides at a carnival, after which he is too dizzy to eat; they even form a Buddy fan club... and who could eat their own fan club? Eventually Buddy realizes that the bunnies have trickled him. The bunnies aren't food at all--they are friends!

Don't miss the Dinosaur Vs. titles by Bob Shea:
Dinosaur Vs. Bedtime
Dinosaur Vs. Mommy
Dinosaur Vs. School
Dinosaur Vs. the Potty
Dinosaur Vs. the Library
Little, Brown Books for Young Readers, 9781423168072, 40pp.
Publication Date: January 7, 2014
About the Author
Bob Shea has created many hilarious books for young people, including Crash, Splash or Moo!, the popular Dinosaur Vs. series, Unicorn Thinks He's Pretty Great, Unicorn is Maybe Not so Great After All, and the early readers featuring Ballet Cat. He has also written stories such as Who Wet My Pants?, illustrated by Zachariah OHora. He lives in Madison, Connecticut and invites you to visit him at bobshea.com.