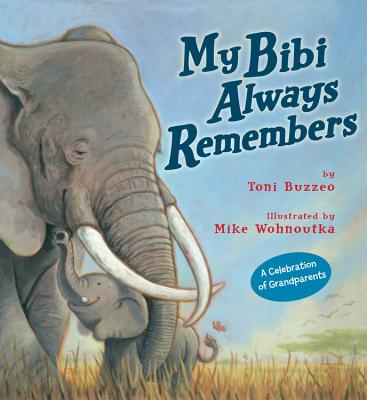 My Bibi Always Remembers (Hardcover)
Disney Press, 9781423183853, 32pp.
Publication Date: September 2, 2014
* Individual store prices may vary.
Description
Little Tembo, a baby elephant, is thirsty and her herd cannot find any water. But Bibi, the matriarch, "remembers the way to wet." As Bibi leads them across the parched savannah, Tembo happily follows, every now and then getting distracted by her own memories of games she loves to play. With touching family moments interspersed between Tembo's playful actions, this tribute to grandmothers will make a perfect read-aloud.
Praise for Stay Close to Mama
"Readers and their parents will instantly see themselves in this loving but ongoing conflict over the need to explore and the need to protect, and they'll undoubtedly find the two characters adorable and reassuring."
-Publisher's Weekly
Wohnoutka's large, almost impressionistic paintings grant a rich glimpse of the broad savanna and its denizens.
-School Library Journal
Praise for Just Like My Papa
"The acrylic illustrations are larger than life and show the expanses of the savannah but remain warm and kid-friendly, especially in the lions' depth of expression, ranging from curiosity to impatience, from concern to pride. The pacing is superb, with the right amount of drama for the youngest readers yet awash with reassuring paternal love and care for young Kito."
-School Library Journal

About the Author
Toni Buzzeo (www.tonibuzzeo.com) is a children's book author and reviewer and retired school library media specialist. She speaks at national, state, and regional library and reading conferences and does author visits at schools across the country. Her most recent books are Just Like My Papa and Stay Close to Mama, companions to this book, and the Caldecott Honor-winning and New York Times best-selling One Cool Friend, ilustrated by David Small. She divides her time between a colonial farmhouse in Buxton, Maine, and a home near the ocean in Sarasota, Florida. Mike Wohnoutka (www.mikewohnoutka.com) grew up in Spicer, Minnesota. His dad, an engineer, would bring home reams of paper with highway plans on one side. Mike filled the blank side of the sheets with drawings of race cars, snowmobiles, baseball players, super heroes-everything he was interested in. In high school his art teacher encouraged him to pursue art as a career. He graduated from the Savannah College of Art and Design with a B.F.A. in illustration. Mike has published books with Random House, Dutton, Clarion, and Holiday House. He enjoys visiting schools and talking to students about illustrating children's books. He currently resides in Minneapolis with his wife and two children.