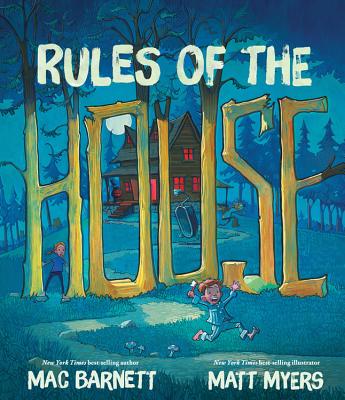 Rules of the House (Hardcover)
Little, Brown Books for Young Readers, 9781423185161, 48pp.
Publication Date: May 3, 2016
* Individual store prices may vary.
Description
Ian always follows the rules. His sister, Jenny, breaks them all the time-especially "Don't pinch." So Ian is thrilled when the house where his family is vacationing posts a tidy list of rules. But when Jenny breaks them all, the house itself decides it's time for payback. The rug, the stove, and the bathtub are hungry for rulebreaker soup, and they've found the perfect ingredient: Jenny!

Now Ian is faced with a thorny question: What if saving your sister means breaking the rules?

From the New York Times best-selling team of Mac Barnett and Matthew Myers comes a hilarious tale of sibling rivalry, moral complexity, and disgruntled monsters, perfect for sharing with your own favorite rulebreakers.


Praise for Count the Monkeys

* "This spot-on spoof of counting books is the perfect reward for anyone who's put in a hard day's work with numbers, big or small."
-Publishers Weekly, starred review

Praise for Oh No! Not Again!

* "Wonderfully ridiculous in premise and execution and abounding in creative touches, this will surely spark student spinoffs."
-Kirkus Reviews, starred review

Praise for Chloe and the Lion

"[R]at-a-tat dialogue and fresh visuals should keep it at the top of the bedtime pile."
-Publishers Weekly

Praise for Mustache

"Youngsters will get a kick out of this kingly comedy?."
-Bulletin of the Center for Children's Books

Praise for Oh No!

* "A must-have."
-Kirkus Reviews, starred review

Praise for Billy Twitters and His Blue Whale Problem

* "Definitely funny and slyly subversive."
-Kirkus Reviews, starred review
About the Author
Mac Barnett is the New York Times best-selling author of over twenty books for children, including Count the Monkeys, illustrated by Kevin Cornell; Chloe and the Lion, illustrated by Adam Rex; and Extra Yarn and Sam & Dave Dig a Hole, both illustrated by Jon Klassen, and both winners of a Caldecott Honor and the E.B. White Read Aloud Award. He also writes the Terrible Two series with Jory John. Mac lives in Berkeley, California. Visit him at macbarnett.com.



Matt Myers studied at the Museum Art School in Portland, Oregon, where he majored in both fine arts and graphic arts. He has illustrated a number of books for children, including the Brixton Brothers series by Mac Barnett,
Clink
by Kelly DiPucchio, and the
New York Times
best seller
Battle Bunny
, by Jon Scieszka and Mac Barnett. Matt lives in Charlotte, North Carolina. Visit him at myerspaints.com.
Praise For Rules of the House…
PRAISE FOR COUNT THE MONKEYS

* "This spot-on spoof of counting books is the perfect reward for anyone who's put in a hard day's work with numbers, big or small."—Publishers Weekly, starred review

PRAISE FOR COUNT THE MONKEYS

"[A] kinetic, raucous read-aloud ."—Kirkus Reviews

PRAISE FOR COUNT THE MONKEYS

"[K]ids will adore Cornell's broadly exaggerated animals, from the toothy monkey grins to the round bottoms of bearded lumberjacks. The whole package has a Saturday-morning-cartoon cheerfulness."—Booklist

PRAISE FOR COUNT THE MONKEYS

"Barnett is back with a zany interactive counting book that's sure to tickle youngsters' funny bones."—School Library Journal

PRAISE FOR OH NO! NOT AGAIN!

* "Barnett's deadpan prose and Santat's page-popping art hilariously reveal what happens when you mess with history, while delivering a light message about the perils of perfectionism."—Publishers Weekly, starred review

PRAISE FOR OH NO! NOT AGAIN!

* "Wonderfully ridiculous in premise and execution and abounding in creative touches, this will surely spark student spinoffs."—Kirkus Reviews, starred review

PRAISE FOR OH NO! NOT AGAIN!

"This picture book strives to evoke a film, and kids with a fast-paced, visual edge and a keen sense of slapstick will devour it."—School Library Journal

PRAISE FOR OH NO! NOT AGAIN!

"Whether they are shoving paintbrushes up their noses, spray-painting their faces, or stabbing each other with pencils, readers will find these Cave Stooges irresistible."—Horn Book

PRAISE FOR CHLOE AND THE LION

"[R]at-a-tat dialogue and fresh visuals should keep it at the top of the bedtime pile."—Publishers Weekly

PRAISE FOR CHLOE AND THE LION

"This meta-picture book offers plenty of sly giggles ."—Kirkus Reviews

PRAISE FOR CHLOE AND THE LION

"[B]eneath the silly surface, children will find a meaningful exposition of just what goes into a successful picture book, and how author, illustrator, and character must collaborate and compromise."—Booklist

PRAISE FOR CHLOE AND THE LION

"Children old enough to understand the constructs of a book will delight in the comedic deconstruction, and adults will enjoy the references to traditional tales, from King Arthur to Frankenstein."—School Library Journal

PRAISE FOR MUSTACHE

"[T]his royal romp of a story contains some subtle messages behind the hilarity."—School Library Journal

PRAISE FOR MUSTACHE

"Youngsters will get a kick out of this kingly comedy ."—Bulletin of the Center for Children?s Books

PRAISE FOR OH NO!

* "Santat and Barnett collaborate seamlessly on this slapstick adventure ."—Publishers Weekly, starred review

PRAISE FOR OH NO!

* "A must-have."—Kirkus Reviews, starred review

PRAISE FOR OH NO!

"[T]he dialogue balloons, dramatic perspectives, and graphic style bring a true comic-book sensibility to this funny story that's loaded with child appeal."—School Library Journal

PRAISE FOR BILLY TWITTERS AND HIS BLUE WHALE PROBLEM

"[T]ons of fun."—Publishers Weekly

PRAISE FOR BILLY TWITTERS AND HIS BLUE WHALE PROBLEM

* "Definitely funny and slyly subversive."—Kirkus Reviews, starred review

PRAISE FOR BILLY TWITTERS AND HIS BLUE WHALE PROBLEM

"[Y]oung readers will likely enjoy the ridiculous premise, and the many whale facts worked seamlessly into the tale."—School Library Journal
or
Not Currently Available for Direct Purchase