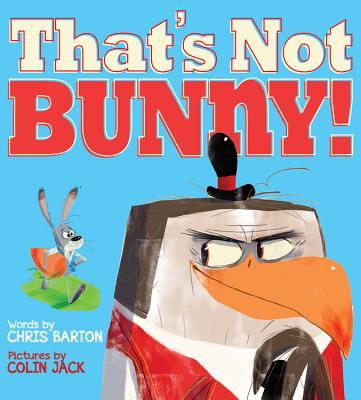 That's Not Bunny! (Hardcover)
Disney-Hyperion, 9781423190868, 48pp.
Publication Date: February 2, 2016
Description
From high above on his perch, Hawk searches for his next meal. When he spots a bunny he swoops down and snatches-a carrot ? He decides to try again; because after all, he isn't a Carrot Hawk. But when Hawk goes for his second attempt he comes up with a cucumber And the third time he grabs a head of lettuce How can Hawk be a hawk, if he can't catch a single bunny? As he surveys the assortment of vegetables in his nest, he gets a great idea for baiting the bunny. But will it work?
About the Author
CHRIS BARTON is the author of bestseller Shark Vs. Train and nonfiction picture books 'The Nutcracker' Comes to America, The Amazing Age of John Roy Lynch, Attack! Boss! Cheat Code!, and The Day-Glo Brothers. Chris lives in Austin, Texas, with his wife, novelist Jennifer Ziegler, and their family. Visit him at www.chrisbarton.info. Colin Jack (www.jackomtablet.blogspot.com) is the illustrator of TOADS ON TOAST and IF YOU HAPPEN TO HAVE A DINOSAUR both by Linda Bailey as well as Ray O'Ryan's "Galaxy Zack" series. When not creating artwork children's books, Colin is a story artist at Dreamworks Animation He lives in the San Francisco Bay area.
Advertisement