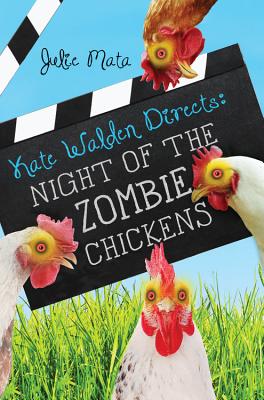 Kate Walden Directs (Hardcover)
Night of the Zombie Chickens
Disney-Hyperion, 9781423194590, 288pp.
Publication Date: May 20, 2014
* Individual store prices may vary.
Description
Night of the Zombie Chickens is supposed to be Kate Walden's breakout film. But her supporting actresses-her mother's prize organic hens-are high maintenance, to say the least. Thank goodness Kate's best friend Alyssa is the star. She's great at screaming and even better at killing zombies in creative ways.
But when Alyssa turns into a real-life soulless zombie and ditches Kate for the most popular girl in seventh grade, Kate suddenly finds herself both friendless and starless. Now, thanks to Alyssa's new crowd, Kate is the butt of every joke at school and consigned to the loser table at lunch.
If movies have taught Kate anything, it's that the good guy can always win-with the right script. And her fellow social outcasts may be the key to her own happy ending. Kate hatches the perfect revenge plot against her former best friend, but even though her screenplay is foolproof, Kate soon realizes that nothing-in filmmaking or in life-ever goes exactly as planned. Especially when there are diabolical hens out to get you.
Praise for Kate Walden Directs: Night of the Zombie Chickens
"Throughout the story, Mata conveys Kate's exuberant enthusiasm for the filmmaking process, including Kate's relish in the special effects tactics used in zombie films and other movies. The surprise twist that provides a timely solution to Kate's dilemmas is suitably theatrical for the movie enthusiast. Preteen and middle school readers will respond to the dogged tenacity with which Kate pursues her moviemaking dreams." (Fiction. 10-14)-Kirkus
"Zombie Chickens is an original take on friendship between girls and middle-school angst. Fans of Wendy Mass, Sharon Draper, and Rebecca Stead will appreciate this clever and quirky piece of realistic fiction."-Lauren M. Sinacore, George M. Davis Elementary School, New Rochelle, NY-School Library Journal
"Each of these dilemmas invites readers to consider how they would deal with similar issues in their own lives. Young teens, especially girls, will find Kate an appealing character facing problems much like their own-except, perhaps, for the zombie filmmaking. Teen guys might appreciate it as well because of the hijinks."-Donna L. Phillips, VOYA

About the Author
Debut author Julie Mata co-owns a film/video production business, where she works as the producer and writer. Previously she pounded out copy as a television reporter, producer, and freelance writer Julie lives with her husband and two daughters in Wisconsin, along with three dogs, two ferrets, one bearded dragon lizard, and a parrot. She's also owned chickens, although none were zombies, as far as she knows!
or
Not Currently Available for Direct Purchase