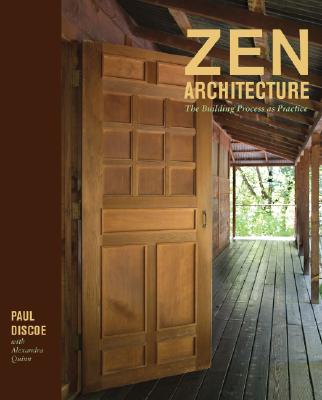 Zen Architecture
The Building Process at Practice
Hardcover

* Individual store prices may vary.
Description
Paul Discoe was in on the ground floor of Zen architecture in the United States. In the 1960s he became a student of Zen Buddhism, studying and building at the Tassajara complex in northern California. His own wood-based Zen-Buddhism architectural structures and renovations in the United States and Europe are the focus of this book. With passionate prose, Discoe identifies the elements of Buddhism that are represented in his buildings and describes the trials and triumphs of blending current building methods and codes of the United States with ancient Japanese joinery techniques. Zen-Inspired Architecture has delightful photography of his structures, and the illustrations show just how a Zen structure has its beginnings.
An ordained Zen Buddhist priest, Paul Discoe studied Art History and Philosophy as an undergraduate in the United States and Buddhist temple design and construction in Japan. He became a student of Suzuki-roshi at Tassajara Zen Mountain Center in California, and after four years, Suzuki sent him to Japan to train under a traditional master builder for five years. Upon returning, Discoe founded Joinery Structures in 1988. His projects include the Kojin-an Zen temple in Oakland for Akiba Sensei, the Founder's Hall and Kitchen at Tassajara, the Lindesfarne Guest House and Wheelwright Center, the Abbot's House at Green Gulch, as well as several prestigious homes and projects internationally. His current project is the Sonoma Mandala project on Sonoma Mountain in California, which will be a significant Zen temple complex in North America.
Alexandra Quinn is a writer, editor, and freelance arts management consultant living in San Francisco. Her publications include exhibition catalogs, educational guides to museum exhibitions, and Candy Story, translated from the French novel by Marie Redonnet.
Roslyn Banish is a San Francisco-based photographer. She has authored a number of documentary books, combining photographs and text. Roslyn received a Master's degree in photography from the Institute of Design in Chicago.
Gibbs Smith Publishers, 9781423600091, 240pp.
Publication Date: September 10, 2008