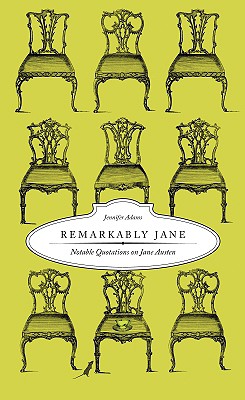 Remarkably Jane
Notable Quotations on Jane Austen
Hardcover

* Individual store prices may vary.
Description
Notable Quotations on Jane Austen
JANE AUSTEN IS THE MOST INFLUENTIAL English novelist of all time, and yet each of us relates to her in our own private way. Remarkably Jane: Notable Quotations on Jane Austen presents one hundred of the most thoughtful, humorous, and impassioned quotations on the work of Jane Austen by great writers, actors, and intellectuals from the past and present. Together, these insights form a collective view of a beloved author whose talents remain unsurpassed.
"Everybody believes in some way that they are Lizzie Bennet." -KEIRA KNIGHTLEY Actress portraying Elizabeth Bennet in 2005 film version of Pride and Prejudice
"It wasn't really me that everyone went crazy about-it was the character Fitzwilliam Darcy], who'd been around for a couple of centuries." -COLIN FIRTH Actor portraying Mr. Darcy in the 2005 BBC TV mini-series Pride and Prejudice
Jennifer Adams is a self-acknowledged Janeite and bibliophile. She works as a writer and editor in Salt Lake City. She is a member of the Jane Austen Society of North America. Remarkably Jane is her seventh book.

Gibbs Smith Publishers, 9781423604785, 128pp.
Publication Date: January 5, 2009
or
Not Currently Available for Direct Purchase