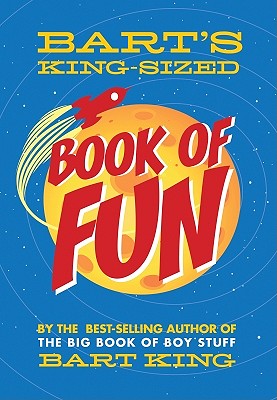 Bart's King Sized Book of Fun
Paperback

* Individual store prices may vary.
Description
Funny man Bart King is at it again with his own gigantic book of fun Jam-packed with awesome jokes, silly trivia, cool activities, mysterious puzzles, and much more, this book is the perfect companion for kids everywhere. They won't leave home (or school) without it
Ask the whiz
Question: I want to write a film script that will make me rich. What should my script be about?
Answer: Based on the top-grossing films of all time, your script should be about a young wizard and a robot looking for a ring on a pirate ship that sinks. Good luck
Bart King is the author of The Big Book of Gross Stuff, The Pocket Guide to Magic, The Big Book of Boy Stuff, The Big Book of Girl Stuff, The Pocket Guide to Mischief, The Pocket Guide to Brilliance, The Pocket Guide to Girl Stuff, and The Pocket Guide to Boy Stuff.
Gibbs Smith Publishers, 9781423606413, 304pp.
Publication Date: September 1, 2010