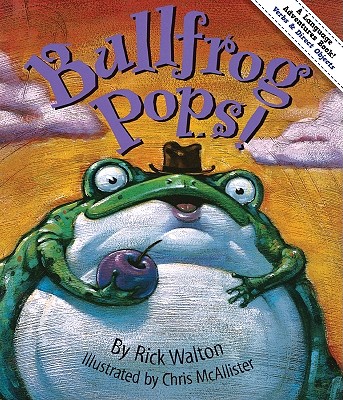 Bullfrog Pops! (Paperback)
An Adventure in Verbs and Objects (Language Adventures Book)
Gibbs Smith Publishers, 9781423620792, 36pp.
Publication Date: March 1, 2011
* Individual store prices may vary.
Description
Teachers and parents know that teaching is more effective when kids are having fun. Rick Walton's Language Adventures Series combines entertainment and education with eight newly revised picture books that cleverly teach grammar and usage. Kids will love the silly stories, funny illustrations, and witty wordplay. Teachers and parents will love the new features: definitions at the beginning of the book and activities at the end that allow kids to apply what they've learned.
Titles in the series include
Around the House, the Fox Chased the Mouse: Adventures in Prepositions
Bullfrog Pops: Adventures in Verbs and Objects
Herd of Cows, Flock of Sheep: Adventures in Collective Nouns
Just Me and 6,000 Rats: Adventures in Conjunctions
Once There Was a Bull . . . (Frog): Adventures in Compound Words
Pig Pigger Piggest: Adventures in Comparing
Suddenly Alligator: Adventures in Adverbs
Why the Banana Split: Adventures in Idioms
Rick Walton is the author of more than sixty children's books, including this best-selling language arts series. His books have been featured on the IRA Children's Choice list, Reading Rainbow, and CBS This Morning.
More than 150,000 copies sold Last seen hopping a stage . . . (coach) and finding his hop in Once There was a Bull . . . (frog), our hero is now on an eye-popping eating binge trying to cure his insatiable appetite. Woven through the western town of Ravenous Gulch, the story leaves a cast of many hopping mad. However, just as things look bleak, transitive and intransitive verbs turn the tables and take Bullfrog on another adventure. Bullfrog Pops is part of Rick Walton's tremendously successful Language Arts series..
or
Not Currently Available for Direct Purchase