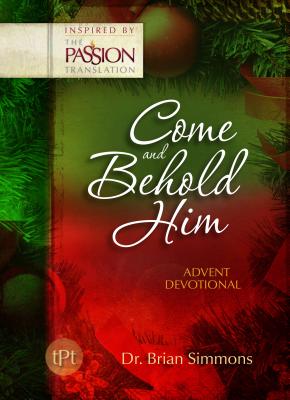 Come and Behold Him
Advent Devotional (Passion Translation)
Hardcover

* Individual store prices may vary.
Description
Prepare yourself to celebrate the real reason for the season--Jesus
Beginning with the first day of Advent, this four-week devotional will take you through the entire Christmas season with twenty-one readings organized around the weekly themes of Advent. Through short, engaging reflections on hope, peace, joy, and love, combined with the beauty and relevance of The Passion Translation--a fresh, faithful translation of the Bible--you will find the inspiration you need to celebrate the true reason for the season. Each reading follows the inspiring journey of the main characters of the Christmas story and offers an Advent prayer, making them perfect for personal, family, or small-group use. Scriptures from The Passion Translation will give you greater insights this season for your journey toward Bethlehem. May this devotional and translation of God's Word inspire your faith in the One who came to rescue us and will come again to create us anew
Broadstreet Publishing, 9781424550364, 112pp.
Publication Date: October 1, 2015
About the Author
DR. BRIAN SIMMONS is the lead translator of The Passion Translation(R). The Passion Translation (TPT) is a heart-level translation that uses Hebrew, Greek, and Aramaic manuscripts to express God's fiery heart of love to this generation, merging the emotion and life-changing truth of God's Word. The hope for TPT is to trigger inside every reader an overwhelming response to the truth of the Bible and to reveal the deep mysteries of the Scriptures in the love language of God, the language of the heart. Brian is currently translating the Old Testament. After a dramatic conversion to Christ in 1971, Brian and his wife, Candice, answered the call of God to leave everything behind and become missionaries to unreached peoples. Taking their three children to the tropical rain forest of Central America, they planted churches for many years with the Paya-Kuna people group. Dr. Simmons established leadership for the churches that Jesus birthed, and, having been trained in linguistics and Bible translation principles, assisted with the translation of the Paya-Kuna New Testament. After their ministry overseas, Brian and Candice returned to North America, where Brian began to passionately work toward helping people encounter the risen Christ. He and his wife planted numerous ministries, including a dynamic church in New England (U.S.). They also established Passion & Fire Ministries, under which they travel full time as Bible teachers in service of local churches throughout the world. Brian is the author of numerous books, Bible studies, and devotionals that help readers encounter God's heart and experience a deeper revelation of God as our Bridegroom King, including Throne Room Prayer, The Sacred Journey, Prayers on Fire, The Divine Romance, and The Vision. Brian and Candice have been married since 1971 and have three children as well as precious grandchildren and great-grandchildren. Their passion is to live as loving examples of a spiritual father and mother to this generation.