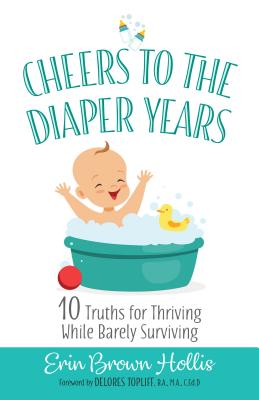 Cheers to the Diaper Years
10 Truths for Thriving While Barely Surviving
Paperback

* Individual store prices may vary.
Description
Welcome to Crazy Town.
Population: Every mom with kids in diapers.
As moms, we drive ourselves crazy striving for perfection. We try to prepare the healthiest meals, install the safest car seats, plan the best birthday parties, and still we lie awake at night wondering if we're doing enough. The pressures can be overwhelming.
Thankfully, the Bible provides us with an encouraging framework for godly parenting.
Cheers to the Diaper Years
shares ten biblical truths that will help you:
find something great in every day,
manage your time around what matters most,
go from worrier to warrior,
dump the mommy guilt,
celebrate your unique awesomeness, and
rely on God's Word to guide your child to Christ.
Out of all the mothers in the world, God selected
you
to parent your child. You can survive the diaper years because you are more than enough in Christ. Cheers to the grace and goodness found in him.
Broadstreet Publishing, 9781424557349, 224pp.
Publication Date: October 2, 2018
About the Author
Erin Brown Hollis is a proud Bama girl, writer, speaker, lawyer, friend, lunchbox packer, boo-boo kisser, sweatpants-wearing momma to her two precious girls: Bellalise (age five)--a sweet, gentle-natured soul, and Annalise (age four, going on fourteen)--the life of every party. She met her husband, Marshall, during law school and drug that Cajun boy back to the Heart of Dixie, a place he now proudly calls home as well. They live in Birmingham, where their dining room is currently being used for laundry overflow. Outside of writing, Erin's hobbies include scrapbooking, playing tennis, watching Friends marathons, crafting, cooking with her girls, and having a clean fridge--an outright miracle worth celebrating these days. When she isn't attending toddler tea parties or wiping up spaghetti stains, you can find Erin writing on her blog: ErinBrownHollis.com and on Facebook/Instagram/Twitter/Pinterest @erinbrownhollis. She welcomes all moms to find a community of love and acceptance on her site, where she shares recipes, crafts, and encouragement weekly. She believes that all moms, no matter their story, are amazing and loves to see them pursuing their passions, whether that be in a Mommy and Me Zumba class or the center of the boardroom in a pair of killer stilettos. Lastly, and probably most importantly, she believes in making every day a celebration--so if you haven't found a reason to celebrate yet today, tell ′em Erin told you to live it up, girl!