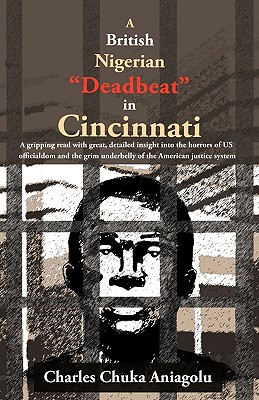 A British Nigerian Deadbeat in Cincinnati (Paperback)
...a Gripping Read with Great, Detailed Insight Into the Horrors of Us Officialdom and the Grim Underbe
Trafford Publishing, 9781425188580, 244pp.
Publication Date: January 22, 2010
* Individual store prices may vary.
Description
Peter Oti, an ambitious, celebrated British Nigerian journalist, with a super size ego and a lustful eye, is on his way to America to begin a dream job as news anchor on CNN International.
Instead, promptly arrested on arrival and labelled "Ohio's worst Deadbeat Dad" by the press, Peter is suddenly forced into the terrifying world of an Ohio jail, in the grip of ruthless guards and cutthroat inmates.
Amid a cultural clash of British, Nigerian and American values, Peter runs the gauntlet of murderers, crack dealers, rapists and corrections officers, an opportunist ex lover with eyes set on a large payout and a local prosecutor bent on re-election.
As he battles to survive the predatory world created by America's criminal justice system, can the hapless British Nigerian beat them all and restore his name?
A British Nigerian "Deadbeat" in Cincinnati is a gripping read and a great, detailed insight into the horrors of US officialdom and the grim underbelly of the American Justice system.
About the Author
Charles Aniagolu is currently a Partner at Spirit Creations, a media production and PR company, based in the UK. He produces and directs television features, documentaries and commercials for various TV stations and companies around the world. Charles worked for 7 years with BBC World Service Radio and BBC World Television as a sub-editor, reporter, producer and presenter. He later worked as a general television reporter with ITN, a freelance news producer with Sky News and more recently, as a casual news presenter on CNN International. Charles is also author of three books: "Osibisa: Living in the State of Happy Vibes" (Trafford UK 2004), "Unbroken Spirit" (FIT Consult, Nigeria, 2003) and "Despatches From Lagos: Nigeria in Crisis" (Alpine UK, 1996). Charles holds a Bachelors degree in Mass Communication and a Masters degree in Broadcast Journalism and Film Production. He also holds a certificate in Intellectual Property Law, from the World Intellectual Property Organisation (WIPO) Academy, in Geneva, Switzerland.