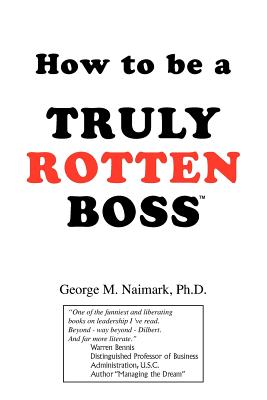 How to Be a Truly Rotten Boss (Paperback)
Xlibris, 9781425700676, 108pp.
Publication Date: May 1, 2006
Other Editions of This Title:
Paperback (3/7/2007)
* Individual store prices may vary.
Description
HOW TO BE A TRULY ROTTEN BOSS - George M. Naimark, Ph.D. Conventional wisdom - backed by credible surveys - suggest that bad bosses are everywhere. This may imply that many such bosses actually aspire to be the way they are. If this be so, this manual may provide them with new techniques for dealing with obstreperous colleagues and subordinates and, although we offer no guarantees, we re fairly certain that assiduous application of these approaches will help them achieve a new level of success. WARNING To subordinates with rotten bosses: some troublemakers have suggested that you ought to share this book with your boss. Should this be your intent, prudence is advised if you re not already independently wealthy. In simple terms: consider giving such a gift anonymously.