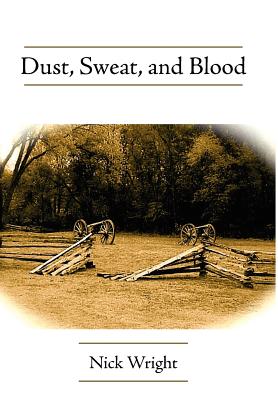 Dust, Sweat, and Blood
Hardcover

* Individual store prices may vary.
Other Editions of This Title:
Paperback (4/16/2007)
Description
Dust, Sweat, and Blood is the second in a series of books by Nick Wright fictionalizing a biography of his great-grandfather, Timothy John Barnes, who 'rode with Forrest'. It begins where his first book, Spirits Remembered ended-after the bitterly contested battle at Pea Ridge in northwest Arkansas. The story follows Barnes and the remnants of three experimental companies formed by the Texas legend, General Benjamin McCulloch, before his death on the first day at Pea Ridge, or as some call it, the battle at Elk Horn Tavern. The few remaining Scouts and Raiders unite with the Rangers under Barnes' leadership forming the nucleus of a band of ordinary men called upon to perform extraordinary tasks. They make their way out of the Ozark Mountains, across Arkansas, and into the northern Mississippi railroad town of Corinth where they join with Nathan Bedford Forrest. Soon they become involved in the fighting at Shiloh Meeting House and assisting Forrest's coverage of the Confederate Army's withdrawal. Following the devastation at Shiloh, Forrest places Barnes and the Rangers on special assignment in western Tennessee, where there adventures continue.
Authorhouse, 9781425998202, 460pp.
Publication Date: April 16, 2007