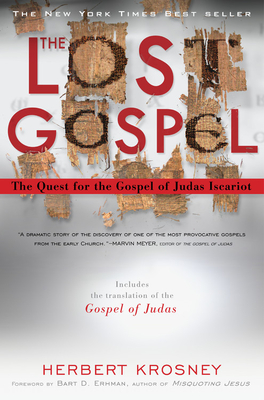 The Lost Gospel (Paperback)
The Quest for the Gospel of Judas Iscariot
National Geographic Society, 9781426200472, 335pp.
Publication Date: March 20, 2007
* Individual store prices may vary.
Description
On best-seller lists nationwide: New York Times, USA Today, Publishers Weekly, and the Washington Post. This compelling and exhaustively researched account reveals the truth behind one of the greatest Judeo Christian archaeology of the century--a 1,600-year-old papyrus manuscript, or codex, containing the only known surviving Gospel of Judas. With all the skills of an investigative journalist and master storyteller, Herbert Krosney traces the forgotten gospel's improbable journey from the sands of the Egyptian desert across three continents--a trek that would take it through the netherworld of the international antiquities trade--until the crumbling papyrus is finally made to give up its secrets. Sold twice, lost once and hidden in a safe-deposit box in Long Island for sixteen years, the story of The Gospel of Judas's amazing trek from the cavern near the banks of the Nile River reads like a "plot from a Hollywood mystery." Was one of history's greatest villains really one of its greatest heroes? Was Judas Iscariot really Jesus Christ's betrayer? With the discovery of the 1,600-year-old Gospel, you can now decide for yourself.
About the Author
Herbert Krosney is an award-winning writer and documentary filmmaker. He has worked for BBC, PBS, and the History Channel, as well as National Geographic. He is the author of Beyond Welfare: Poverty in the Supercity; Deadly Business: Legal Deals and Outlaw Weapons; and co-author of The Islamic Bomb: the Nuclear Threat to Israel and the Middle East. He divides his time between New York and Jerusalem. Bart D. Ehrman is the James A. Gray Distinguished Professor of Religious Studies at the University of North Carolina at Chapel Hill, and is an expert on the history of early Christianity. He is the autor of 19 books including the bestselling Misquoting Jesus: the Story Behind Who Changed the Bible and Why.
Praise For The Lost Gospel: The Quest for the Gospel of Judas Iscariot…
"The story of the gospel's rediscovery and salvation [The Lost Gospel by Herbert Krosney] reads like a Hollywood mystery." –The Boston Globe

Jesus said to Judas: "You will exceed all of them. For you will sacrifice the man that clothes me." –The Gospel of Judas

"Riveting....With the tenacity of a top-flight investigative reporter, Krosney pursued every facet of the discovery and reclamation of the text. With an uncanny knack for piecing together isolated data, he has provided us with scores of details that, were it not for his efforts, would have been lost forever." –Bart D. Ehrman

"A dramatic story of the discovery of one of the most provocative gospels from the early Church." –Marvin Meyer, editor of The Gospel of Judas