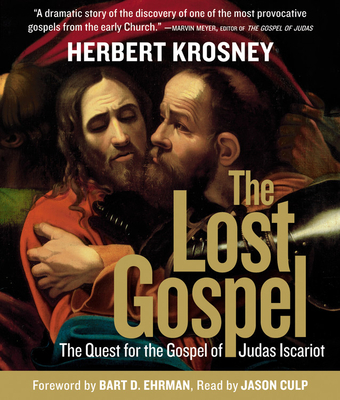 The Lost Gospel: The Quest for the Gospel of Judas Iscariot (Compact Disc)
The Quest for the Gospel of Judas Iscariot
National Geographic Society, 9781426200571
Publication Date: May 2, 2006
* Individual store prices may vary.
or
Not Currently Available for Direct Purchase
Description
This codex one of the greatest discoveries in Judeo-Christian archaeology did not head straight to a museum, or even to the library of a rich collector. The gospel's removal from its burial place was just the beginning of a bizarre cloak-and-dagger journey. The Gospel of Judas, treated like a piece of merchandise, would be shopped around on three continents over the course of the next twenty-five years, its contents glimpsed only a few times between long periods of inactivity in far from ideal storage conditions. Every step of the way the precious document would deteriorate, until much of it was reduced to fragments of papyrus fibers.
About the Author
Herbert Krosney is an award-winning writer and documentary filmmaker specializing in investigative and historical projects. He has worked for BBC, PBS, and The History Channel as well as National Geographic. Bart D. Ehrman is the James A. Gray Distinguished Professor of Religious Studies at the University of North Carolina at Chapel Hill, and the author of 19 books, including the bestselling Misquoting Jesus: The Story Behind Who Changed the Bible and Why and The Lost Christianities. Jason Culp has recorded numerous audiobooks including John Irving s The Fourth Hand, Peter Straub s In The Night Room, Elmore Leonard s Be Cool, and David Baldacci s Last Man Standing ."
Praise For The Lost Gospel: The Quest for the Gospel of Judas Iscariot…
"The story of the gospel's rediscovery and salvation [The Lost Gospel by Herbert Krosney] reads like a Hollywood mystery." –The Boston Globe

"A dramatic story of the discovery of one of the most provocative gospels from the early Church." –Marvin Meyer, editor of The Gospel of Judas

"Riveting…With the tenacity of a top-flight investigative reporter, Krosney…has provided us with scores of details that, were it not for his efforts, would have been lost forever." –Bart D. Ehrman

Jesus said to Judas: "You will exceed all of them. For you will sacrifice the man that clothes me." –The Gospel of Judas
Advertisement