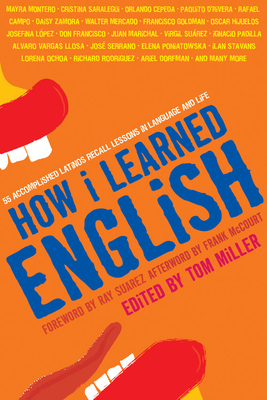 How I Learned English: 55 Accomplished Latinos Recall Lessons in Language and Life (Paperback)
55 Accomplished Latinos Recall Lessons in Language and Life
National Geographic Society, 9781426200977, 267pp.
Publication Date: August 21, 2007
* Individual store prices may vary.
or
Not Currently Available for Direct Purchase
Description
All over the world there are people struggling to master the quirks and challenges of English. In today's America, many millions of them are Latino--and in this eloquent collection, nearly 60 of the best known contribute fascinating, revealing, often touching essays on the very personal process each went through to achieve this common end. Their successes are inspiring. Their pieces, engaging and entertaining all, express the whole range of emotions that learning any new language entails.
Congressman Jose Serrano, for example, describes learning English from Frank Sinatra records. Cuban-American author Oscar Hijuelos picked it up as a sick little boy in an American hospital bed. Many find it a daunting ordeal; for others English came easily. But from TV personality Cristina Saralegui to Hall of Fame baseball player Orlando Cepeda, every last one remembers what it felt like to do battle with bizarre idioms, irregular verbs, and all the other incomprehensible intricacies that tangle the tongue.
And of course, every new English-speaker has a tale to tell: an immigrant yearning to assimilate and achieve, or a political exile suddenly far from home and alone, or a child who just wants to fit in. Their fears and triumphs will resonate with everyone who has shared this exasperating, exhilarating experience, whether last year or a lifetime ago. This wonderful, eclectic, inviting collection speaks to--and for--all of them, and goes directly to the heart of the national debate on language and immigration.
About the Author
Tom Miller has been bringing us extraordinary stories of ordinary people for more than thirty years. His acclaimed travel books include The Panama Hat Trail, On the Border, and Trading with the Enemy: A Yankee Travels Through Castro's Cuba. Another of his titles, Jack Ruby's Kitchen Sink, won the Lowell Thomas Award for Best Travel Book of 2000. He has also edited two collections, Travelers' Tales Cuba, and Writing on the Edge: A Borderlands Reader, and his articles have appeared in Smithsonian, The New Yorker, The New York Times, LIFE, Natural History, and many other periodicals.
Advertisement