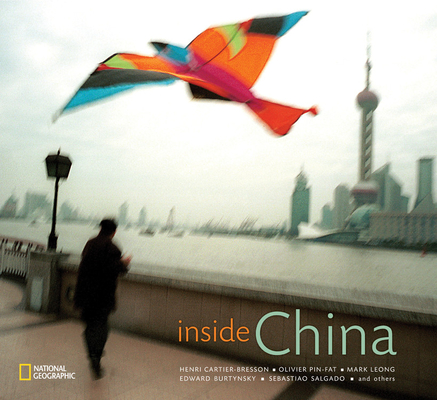 Inside China (Hardcover)
National Geographic Society, 9781426201264, 271pp.
Publication Date: October 16, 2007
* Individual store prices may vary.
or
Not Currently Available for Direct Purchase
Description
China's emergence as an economic and cultural giant reigns as a key international story of our time. In an unprecedented visual tour de force, National Geographic chronicles this astonishing ascent through some of the most eye-opening, evocative, and extraordinary pictures ever recorded of the enigmatic nation, past and present. Exotic China has always attracted great photographers, and its history has yielded unforgettable scenes. Inside China unveils fascinating archival images rarely made public: Luminaries Henri Cartier-Bresson and Marc Riboud portray the old order and the ascendancy of Chairman Mao; Chinese news photographer Li Zhensheng gives startling new insight into the harsh Cultural Revolution. Today's China, filled with excitement and fraught with challenge, is captured by contemporary photographers including Mark Leong, Paolo Pellegrin, and Mark Henley--who, with privileged access, depict fashionable youth and glamour, the development of mega-industry, and new materialism alongside traditional religion and rural life, revealing the rapidly changing scene in all its complexity. Five renowned experts on China--Jonathan Spence, James Watt, James MacGregor, Elizabeth Economy, and Minxin Pei--narrate and enrich the story with informative, thought-provoking essays. China will continue to attract global attention as the country prepares to host the 2008 Summer Olympics and the 2010 World's Fair. This unprecedented book, an integral part of National Geographic's initiative on China, holds great appeal for photography and history enthusiasts, as well as the wider general audience craving a deeper cultural and historical perspective of this intriguing nation.
About the Author
NATIONAL GEOGRAPHIC is one of the world's leading nonfiction publishers, proudly supporting the work of scientists, explorers, photographers, and authors, as well as publishing a diverse list of books that celebrate the world and all that is in it. National Geographic Books creates and distributes print and digital works that inspire, entertain, teach, and give readers access to a world of discovery and possibility on a wide range of nonfiction subjects from animals to travel, cartography to history, fun facts to moving stories. A portion of all National Geographic proceeds is used to fund exploration, conservation, and education through ongoing contributions to the work of the National Geographic Society.
Advertisement